The 2008 Beijing Olympics proved that the Chinese know how to stage a spectacular opening ceremony. It looks like they're about to wow the world again.
IBTimes UK presents the first photos of dress rehearsals for the 2014 Nanjing Youth Olympic Games opening ceremony. Some 520 students from the Shaolin Tagou Martial Arts School create complex patterns as they are suspended over the stadium.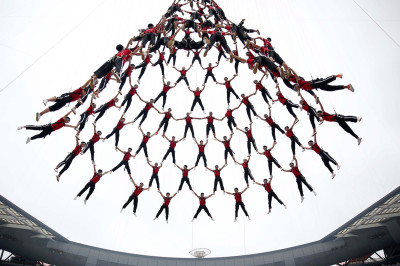 The 2014 Summer Youth Olympic Games will be held from 16 to 28 August 2014 in Nanjing, Jiangsu Province, China.
An estimated 3,600 teenage athetes from 204 nations will compete in 28 sports. Security in the city has been tightened ahead of the games; thousands of soldiers and armed police have been drafted in to ensure the event runs smoothly.