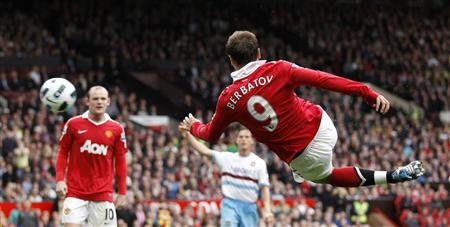 All the latest transfer rumours from Juventus as the Italian giants set their sights on Manchester United's Dimitar Berbatov. Juventus believe they can sign the Manchester United for around £7m and are expected to sign Bayer Leverkusen midfielder Arturo Vidal.
Juventus are set to bid for Manchester United striker Dimitar Berbatov according to reports in the Daily Star. The Manchester United forward was the Premier League's top goal scorer last season but fell down the Manchester United pecking order after the emergence of Javier Hernandez. The Daily Star report that Manchester City are set to sign Sergio Aguero from under the noses of Juventus and the Italian giants will now turn their attention to Berbatov.
The Manchester United forward, who was signed for a club record £30.5m in 2009, is said to welcome an exit from Manchester United after his Champions League final snub. Reports in Italy claim that the Bianconeri have turned their attention to Berbatov and will offer Manchester United around £7m for the player. The 30 year old has just twelve months left on his current deal at Old Trafford and the newspaper suggested Manchester United will seriously consider the offer.
The Italian giants will meet with Arturo Vidal's representatives in Milan over the coming days to finalise a deal for the Chilean international according to Goal.com. The club and the player's representatives will hold a meeting in an effort to sign the defensive midfielder who has also attracted interest from Bayern Munich. However, Bayer Leverkusen has said that they have no plans to sell Vidal to a Bundesliga rival, putting Juve in the driving seat for the player signature.
Vidal's agent, Fernando Felicevich, will arrive in Italy this week to hold a meeting with Juve officials in Milan, and the elimination of Chile from the Copa America at the quarter-final stage appears to have enhanced transfer negotiations, meaning it are expected that a deal will be finalised this week.
Click here for all of the latest transfer rumours from Serie A