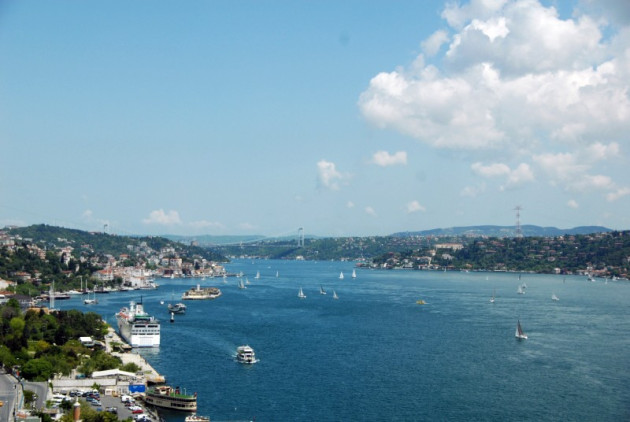 Turkey is set to open a $4bn railway tunnel underneath the Bosphorus Strait linking the two continents of Asia and Europe.
The Turkish-Japanese project was a dreamchild of Ottoman Sultan Abdülmecid I, who sketched an underwater tunnel more than 150 years back.
The tunnel, connecting the Asian and European shores of Istanbul, is 13.6kms (8.5 miles) long, including a 1.4km immersed tube channel.
The inauguration of the tunnel coincides with the 90th anniversary of the founding of the Turkish Republic.
The quake-proof tunnel has been built to address Turkey's increasing traffic congestion and has been Prime Minister Recep Tayyip Erdogan's pet project for several years.
The construction of the tunnel started in 2004 and was scheduled to be completed in 2009, but was frequently delayed by archaeological excavations.
When it is fully operational, nearly 75,000 people can travel every hour in the tunnel which has a carrying capacity of 1.5 million people a day. During peak hours, trains will run every two minutes.
Turkish officials say this is the world's deepest submerged underwater railway tunnel, 62 metres at its deepest point.
Turkey hopes the passageway will become a key trading route in the future connecting China to west European markets. But critics are sceptical and call it "grandiose".
"This is a project of reuniting civilisations. The Silk Road is not only a caravan route but a road that links western and eastern civilisations," said Turkey's Transport Minister Binali Yildirim.
Japanese Prime Minister Shinzo Abe will join Erdogan during the opening ceremony.
As part of its giant transportation project known as Marmaray, Turkey is also upgrading the existing railway lines in the country.