Will the Scottish Referendum Reignite Britain's Interest in Politics?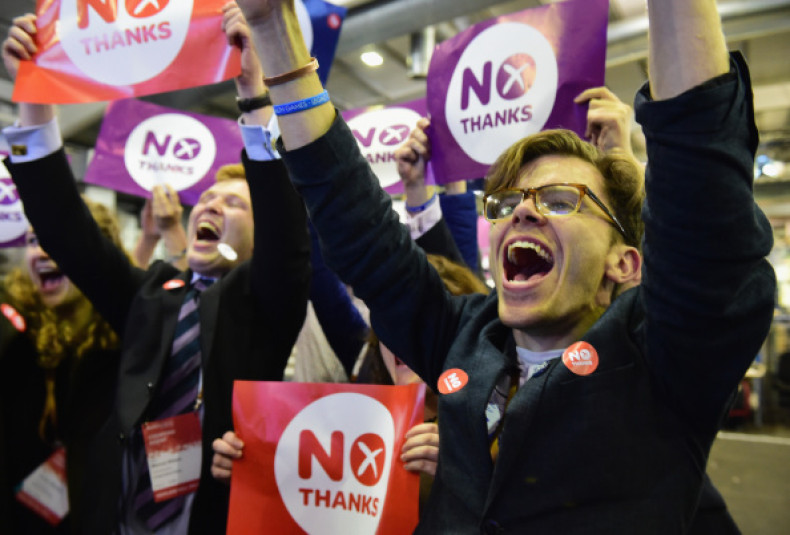 The turnout in the Scottish independence referendum on 18 September was truly remarkable. No less than 84.7% of the registered electorate voted, making it the highest turnout in any nationwide ballot in Scotland since the advent of the mass franchise after the First World War. It was even more remarkable given that it occurred at a time when the electorate has apparently become more reluctant to go to the polls. At 65% the turnout in the last UK election was, though up four points on 2005 and six points on 2001, still well below anything recorded between 1945 and 1997.
The reason for the high turnout is clear. Whether they were for or against independence, Scotland's voters accepted that the choice being put before them was an important one and potentially had profound implications for their nation's future. The high turnout was thus consistent with the argument that although voters may have become more difficult to get to the polls, they will still participate if they are presented with what they regard as a real and meaningful choice. Low turnouts at recent elections have been as much a reflection of voters' doubts about the extent to which the choice put before them matters as their reluctance to engage in the political process.
But what is of interest now is whether the referendum will leave a legacy. Given that so many voters in Scotland were drawn into the political process, will some of them have become sufficiently motivated – maybe even enthused – to cast a vote at election time when previously they might not have bothered? Will Scotland consequently enjoy higher turnouts at the UK general election in May 2015 and at the next Scottish Parliament ballot in May 2016?
The high turnout in the independence referendum was long anticipated. For example, in polls conducted by Ipsos MORI between February 2013 and August 2014, the proportion saying they were 10/10 certain to vote was never lower than 73%, and as polling day got closer exceeded 80%.
These MORI polls also asked their respondents another question – how likely would they be to vote if there were a Scottish Parliament election tomorrow? That question evinced a markedly lower level of interest and engagement than was evident for the referendum. Only between 65% and 71% said they were 10/10 certain to vote. The most recent reading, in August, was 69%.
Still, we might note that that figure is considerably higher than the 50% who turned out to vote in the last Scottish Parliament election. However, a more telling comparison is with the proportion who back in late 2009 and 2010 (i.e. at more or less the same stage in the Scottish Parliament's electoral cycle as we are now) said they would be certain to vote. Ipsos MORI ascertained people's likelihood of voting in a Scottish Parliament contest on three occasions between September 2009 and February 2010 – and only between 54% and 58% said they were certain to vote.
So there is little likelihood that 85% of voters will make it to the polls in a future Scottish Parliament election. But the evidence does suggest that at the moment at least there is a real chance that the turnout in 2016 will be higher than the 50% that pertained in 2011.
Unfortunately it is not possible to undertake a similar comparison of reported likelihood of voting in an election to the House of Commons now with the position five years ago – polling of whether, and how, people in Scotland might vote in such an election has been thin on the ground recently. However, we can look at recent UK-wide polls and compare the proportion of people in those polls living in Scotland who say they are certain to vote in a general election with the equivalent figure for the UK as a whole.
ComRes, ICM and Ipsos MORI between them found that in August and September on average 54% of people across Britain as a whole said that they were 10/10 certain to vote in a UK general election. That relatively low figure itself suggests the public is much less engaged in the current electoral battle than much of Scotland has recently been.
However, crucially, amongst those respondents living in Scotland the figure is much higher, 64%. It thus appears that voters in Scotland are more likely to be caught up in next year's UK-wide battle too,
So there seems little doubt that for the time being at least the referendum has stimulated an interest in politics north of the border, and that currently more people are strongly motivated to vote than has either been the case north of the border in the recent past or is currently evident in England and Wales. What, of course, we cannot be certain about is whether this mood will be sustained, or whether the memory of the referendum will gradually fade. But there is at least a chance that the referendum will leave a legacy of a more engaged electorate.
John Curtice is Professor of Politics, Strathclyde University