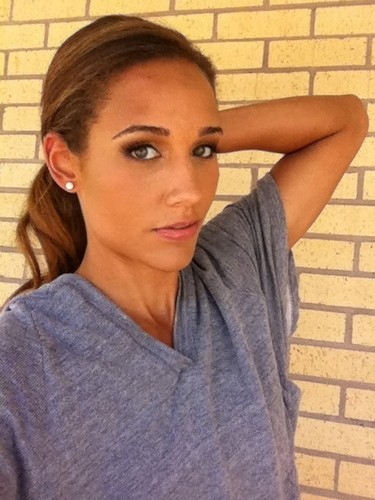 US Olympic star Lolo Jones has acquired a few new enemies after suggesting that Rihanna is a slut.
The 31-year-old athlete made the controversial comments after news broke that Rihanna's new boyfriend Drake would be hosting the ESPY Awards, which celebrate excellence in US sport, in July.
Jones, who revealed in 2012 that she was still a virgin, expressed her disappointment about the choice by hinting that the rapper would struggle to do a good job because he would be surrounded by Rihanna's ex-boyfriends and rumoured lovers.
It's amazing that Drake is hosting the @Espys but it's gonna be tough for him to hand out all those awards to Rihanna's ex boyfriends

— Lolo Jones (@lolojones) April 10, 2014
Rihanna briefly dated American professional baseball player Matt Kemp in 2009, following her split with Chris Brown, and has also been romantically linked to New York Knicks shooting guard JR Smith. Both men are likely to be at the awards.
Within minutes of Jones's tweet, thousands of the Diamonds singer's fans came to her defence and accused Jones of being jealous and attention-seeking.
you look like Cuba Gooding Jr. on steroids. you got jokes but no Olympic medals, prioritize young man @lolojones.

— Vaun. (@_Vaun) April 11, 2014
Lolo Jones is ALWAYS crying (literal tears) about people being mean to her but here we are...

— Mr Steal Yo Curls (@Gordehh) April 11, 2014
Here's what I really believe. Lashing out at women of color is a device you use to cover your own sense of inadequacy. @lolojones

— Goldie Taylor (@goldietaylor) April 11, 2014
If Lolo Jones could run #DemFeets like she run her mouth she'd be a champion

— Cerrome Russell (@CerromeRussell) April 11, 2014
The 2014 ESPYs (Excellence in Sports Performance Yearly), which is one of the biggest nights in sports, is scheduled to take place on 16 July at the Nokia Theatre in Los Angeles. It will be broadcast live.
Rihanna, who is known for firing back at her critics or rude fans, has not responded to Jones's comments.