Mushers from across the UK have gathered in Aviemore, in the Scottish Highlands for the Aviemore Sled Dog Rally, organised by the The Siberian Husky Club of Great Britain (SCHGB). The 33rd race will be taking place in the forests around Loch Morlich within the shadow of the Cairngorm mountains between the 21-26 January 2016, with mushers arriving with their huskies a day earlier, in order to practice.
The race is organised by the Siberian Husky Club of Great Britain, in conjunction with Forestry Commission Scotland and is now the largest event of its kind in the UK, with over 1,000 sled dogs and 250 mushers – a big jump from the original number back in 1984 which consisted of only 12 teams.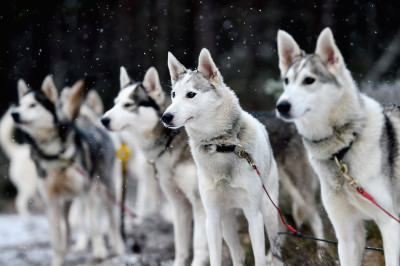 The Aviemore trail is a designated cross-country ski course, with the beginning of the track lying just over a wooden bridge, running parallel to the ski road for a short distance before entering the forest. Participants are in teams of between two and eight dogs, pulling their musher on a sled around a four to seven mile trail, usually in the snow. If snow fails to fall, the races continues, with mushers using a three-wheeled, similar to a tricycle without a seat.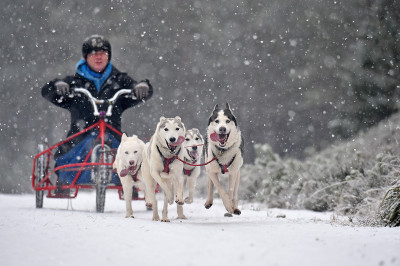 Siberian Huskies are not the only race dogs to be included in the rallies, Alaskan Malamutes, Samoyeds, Greenland Dogs and Canadian Eskimo Dogs are among the common breeds used to take part in the race. These were the first breeds of dogs trained to pull sleds in Arctic conditions hundreds of years ago.