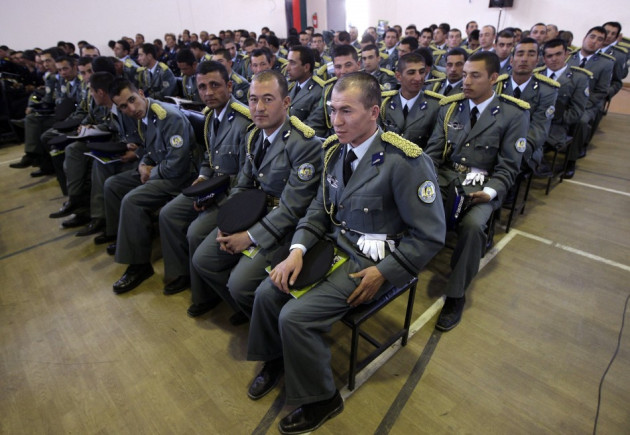 An Afghan soldier was shot dead when he opened fire on a Nato trainer only days after a new officer training college modelled on Sandhurst started enrolling recruits.
The Afghan National Army Officers' Academy in Kabul is intended as Britain's main legacy in Afganistan when the armed forces leave the country next year, and journalists were invited to watch an initial class of 250 students put through their paces last week.
The college could eventually train up to 1,500 recruits a year, and 120 British instructors are supported by colleagues from Australia, New Zealand, Norway and Denmark.
On Saturday, an Afghan soldier became involved in a heated argument with an instructor from New Zealand.
The BBC reports that the soldier was guarding a fence around the perimeter of the complex of buildings the college nestles in, and confiscated a laptop from a driver.
When the Nato soldiers told him to hand it over, he refused, and as the argument escalated they swore at him, and he shot the instructor in the chest.
"Only one bullet that we're aware of hit, the second Australian returned fire and critically injured and possibly killed the Afghani," said Lieutenant General Rhys Jones, chief of the New Zealand Defence Force shortly after the incident, who identified his injured soldier as an instructor from the officer academy.
"Some of the shrapnel went into the arm of the Australian soldier that was hit, another part went into the foot [of the New Zealand soldier]," he told a news conference.
'Insider' attacks have accounted for scores of deaths of international troops in Afghanistan, causing 15% of all foreign military deaths last year.
New measures introduced have reduced the number of killings, including assigning armed 'guardian angels', like the Australian troop who returned fire, to attend meetings between Afghan and international troops.
The Taliban denied any responsibility for the latest incident, reported the Guardian, but urged Afghan troops and police to turn on their foreign colleagues.