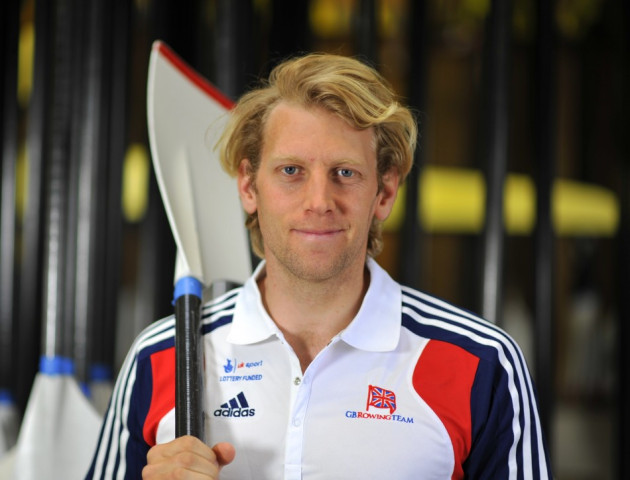 When Sir Steve Redgrave uttered the immortal words that anyone could shoot him should he be spotted in a boat again, the five-time Olympic champion set the benchmark in indisputable retirement speeches. To come back at 38 for his finest hour in Sydney four years later was perfect symmetry rather than premeditated success.
Despite a myriad of temptations, Andy Triggs Hodge, Great Britain's double Olympic rowing champion has refused to make as bold a declaration. The Buckinghamshire-horn oarsman will too be 38 come the next Olympics at Rio 2016, and following marriage to wife Eeke and news of the impending birth of their first child, Triggs Hodge had plenty of reason to leave his legacy to rest.
The unmatchable feats of London 2012 has seen Sophie Hosking become the first athlete from the nine boats which medalled to retire from the sport, while Anna Watkins and Katherine Grainger are still to announce their future plans. After three months out of the boat, Triggs Hodge admits he almost joined that illustrious list.
"There was a part of me that said 'can I do this anymore'? Do I want to do it? Can I be bothered to compromise for another four years?" he told IBTimes UK. "Everything that you have to do to be an athlete is always a trade-off.
"That's what makes it a tough decision because there is a strong part of me that just wants to hold my hand up and say 'I can't do this anymore'.
"I gave myself plenty of opportunity to be tempted away from the sport. I was fortunate to be in a position to talk to people to advise me and explore my opportunities.
"There are a lot of things I do and a lot of things I still do which would make it very easy to stop rowing."
Triggs Hodge began his competitive return in earnest in March in Sydney; winning World Cup gold in the men's eight alongside Pete Reed and Alex Gregory, heroes from the four in London, before beating the aforementioned duo alongside Mo Sbihi in the men's pair at the British trials.
Any of Team GB's gold medallists could be forgiven for lacking motivation and drive ahead of another Olympic cycle, such was the furore surrounding of the country's greatest sporting summer, and while Triggs Hodge's enthusiasm can't be questioned, his challenge is to make Rio as special as possible.
"If I was trying to expect Rio to come close to London then I'd be kidding myself.
"London was incredibly special, because it was a home Olympics, because of all the effort that friends and family and everyone put in to make it the event it was, as a Brit, something you can't buy.
"To try and emulate what we did in London and in Beijing is a big challenge and putting that on the line for a six minute race; hopefully we'll be celebrating that in the long run.
"Of course it will be a very different event, it will mean different things but I look forward to the challenge along the way and making the event hopefully something special no matter where in the world."
That daunting run to Rio continues back at the venue of Triggs Hodge's finest hour, Eton Dorney, which hosts the second World Cup event of 2013 11 months on from London 2012.
While Dorney Lake, as emotive a venue as any used during the Games, will bring memories flooding back for GB's nine-medal success, Triggs Hodge, who watches back his golden triumph "every now and again" has called on the host nation to make 2013 as equally memorable.
"Dorney holds a lot of fantastic memories and some of the best memories I'll ever had," Triggs Hodge added. "The location is just as much as the medal, the medal is just a lump of metal but the memories and the effort and the time people put into that that made it special.
"Every time you show people your medal people remember a part of Dorney Lake or a part of their experience from that day and when we go there next week it is going to be a very different experience.
"There will be certain parts of me that will remember that, but if we want to make Dorney great in 2013 then it will be about all the people that come down for that event.
"Yes, it gives it a bit of sparkle and a bit of flavour but rowing is a great sport to be part of and we'll demonstrate that this week."
Andy Triggs Hodge is competing at the Word Rowing Cup at Eton Dorney from 21-23 June www.wrcupetondorney2013.com