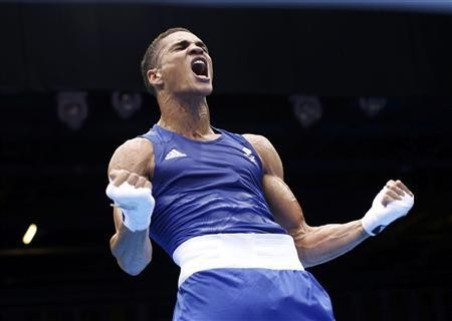 Anthony Ogogo strolled into the Mayfair Hotel in London with a broad smile on his face, and it is little wonder after it was revealed that he had signed with Golden Boy Promotions and would have the chance to become their next global superstar.
The Olympic bronze medallist is hoping to be a crossover success, not only growing his burgeoning support in the UK, but also attracting a following in America where he hopes to fight at least four times in his first year.
As he excitedly discusses his future with the assembled media masses it is clear to see why Golden Boy have chosen to put their faith in the talented middleweight. He has a natural charisma and a permanent smile that is sure to win over fans from around the world.
When handed the chance to speak to Ogogo in a quiet corner of a busy conference room, the discussion quickly turns to why he chose to sign with the American promotional company. There is little delay in his answer as he talks excitedly about the chance to spar with Mexican sensation Saul Alvarez and to feature on the undercard of modern day great Floyd Mayweather.
Having turned down the advances of Eddie Hearn, Frank Warren and Ricky Hatton, Ogogo is quick to stress that he is not leaving his fans in the UK behind and that he will still be on a number of shows on home soil.
"I can't stress enough to people that I'm not leaving England. I won't be away for more than around three weeks and I want to have at least four fights in England and on British TV," Ogogo exclusively told IBTimes UK.
"If that's not good exciting enough, then to go over to Vegas and fight on the Mayweather undercard and spar with Saul Alvarez in Mexico or Peter Quillin [the current WBO middleweight champion] is simply amazing."
Ogogo has yet to appoint a full-time trainer since making the decision and instead plans to spend the next few months touring around England and America. He wants to learn from as many trainers as possible before settling on the team that will look to guide his professional career.
One trainer that the Lowestoft fighter would love to work with is the man tasked with restoring Amir Khan to one of the top fighters in the world. Virgil Hunter has sculpted the career of Andre Ward, the undoubted number one super-middleweight, and is now hoping to transform the fortunes of the Brit.
"I would love to work with Virgil and to spar with Andre Ward as he is simply the best," declared Ogogo. "I've love to spar with him and just try to hit him and to see how good he is. Even if we spar six rounds and he hits me 100 times then the next day I'd be back in there and I'd only try to get hit 90 times, or 80 times.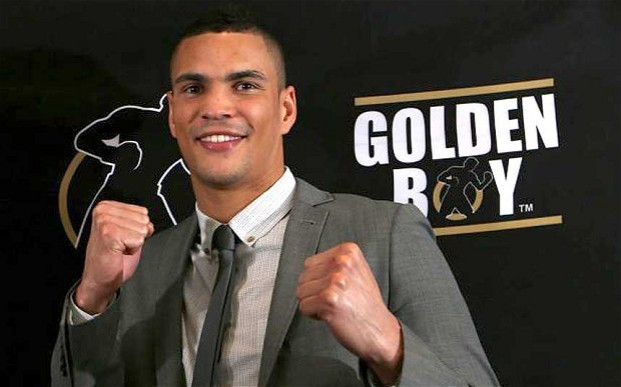 "I want to learn as much as possible in the next few months but if I can listen to trainers around the world then I get the best of both worlds."
The 24-year-old can barely contain his excitement as he discusses his future plans with Golden Boy and it is of little surprise to learn that he is an incredibly ambitious young fighter. He plans to have as many as eight fights in his first year as a professional and is keen to be fast-tracked through an already stacked division.
The middleweight scene may well be thriving on the world stage, but it is not short of talent in the UK with the likes of Chris Eubank Jr, John Ryder and Billy Joe Saunders all making a name for themselves over the last 12 months.
However, Ogogo feels he will soon be mixing it with these fighters and is already planning on working his way towards huge fights with the best British middleweights in Matthew Macklin, Darren Barker and Martin Murray.
"We have a brilliant division in England and the likes of Barker, Macklin and Murray will all be around in 18 months ," stated the clearly confident Ogogo. "Plus Saunders, Nick Blackwell and Ryder, all of those guys will be there and I want to get fast tracked so that I'm there along with those guys.
"If we can have some fights between all of us, then for boxing in general it is a great era to be in. I'm not calling anyone out as these are guys I admire but I want to be up there."
Having overcome adversity, in the form of a serious injury to his shoulder, and been close to giving up on his Olympic dream when his mother was seriously ill and fighting for her life, it seems Ogogo is now fully focused on making up for lost time.
He remains close to his family and admits to being somewhat of a mummy's boy, but it is now time for him to go out on his own and crack America. There is a possibility that he will fight on the undercard of Mayweather against Robert Guerrero on May 4 and he is certain to be given plenty of exposure by Oscar de la Hoya's company.
Ogogo has not had the chance to meet the original Golden Boy but simply knowing that De la Hoya had a say in the decision to sign him is another massive boost for his confidence.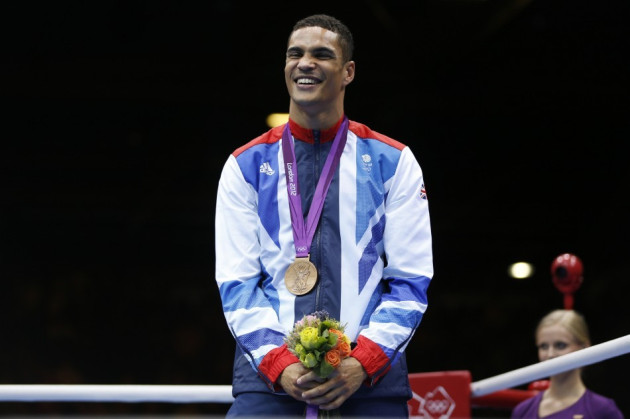 "When you have someone like De la Hoya wanting you it is a buzz. Him wanting to promote me and make me a good fighter is incredibly exciting and I'm really looking forward to it. Hopefully I'll get the chance to meet him when I go out to America which will just be unreal."
After a quick chat about his time on Celebrity diving show Splash, Ogogo admits he isn't the most talented in the pool, it is on to another interview and a chance for him to do what he loves almost as much as boxing, talk.
With a debut fast approaching it will soon be time for his fists to do the talking and there is little doubt that he will look to make a statement. With a bright future ahead of him it is safe to assume that fans around the world will get to see plenty more of that infectious smile.