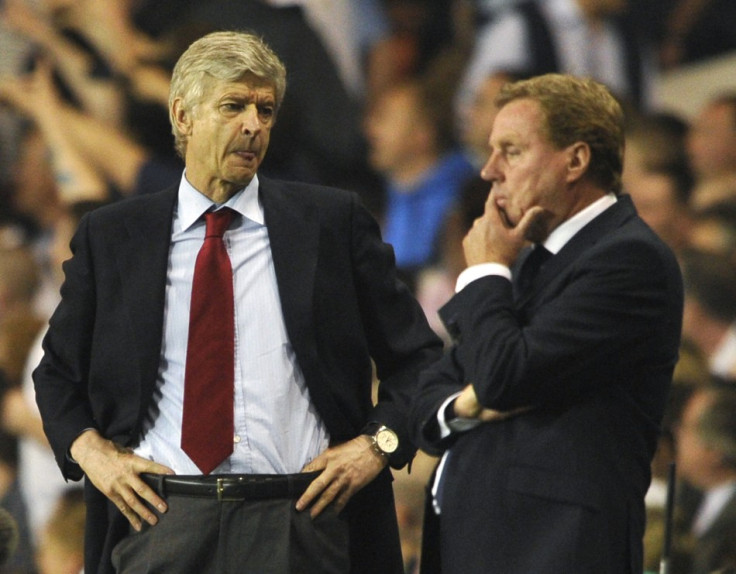 Arsene Wenger believes that it is possible for a manager to work with England part-time for Euro 2012, with the Arsenal man hinting that he believes Harry Redknapp could do well in the post for the side at Euro 2012.
Redknapp is favourite to take on the England role after Fabio Capello resigned at the beginning of February.
And though Tottenham would be loath to lose their manager, who has taken the side to one Champions League season so far and looking likely to do it again at the end of this season, Wenger believes that while it's not ideal, there is a possibility that he could stick with Spurs until the end of the season and then head straight to England.
"I don't say that it can't work, but I don't think it should be the policy of a federation just to get a manager for three or four weeks," he told the Official Arsenal Magazine.
"That's not how you build a team or get continuity. That's not to say it won't work every now and then."
Wenger himself has been touted as a possibility for the England managerial job, with Arsenal currently struggling this season and putting increased pressure on the Frenchman.
The France job also could be available, with Laurent Blanc looking unlikely to have his contract renewed.
Redknapp commented last month that while it wouldn't be possible to manage England in a part time capacity for the long term, it might be a possibility for the Euros.
"Part-time? In the short term I think it's possible for the European Championships," he said at the time. "But I think in the long term it's not possible to manage a club team and manage a national team.
"It's difficult enough to manage in the Premier League without having to worry about managing the England team as well. You want to be watching England players play, you want to be watching the opposition.
"I think, whoever they give the job to, could only do the one job. Maybe for the Euros, it's not such a problem but once the Euros are finished and the new season starts in England, the manager has to be a Premier League manager - if it's someone who manages in the Premier League - or the England manager."