Arsenal Gunned Down by 4-Goal Milan, Wenger Shocked [PHOTOS]
It was supposed to be a night of equals... of one of Euopre's top football clubs taking on another... a night of tactically sound, attractive football. The only problem was that someone forgot to give Arsenal that script. They read from one that said they had to put up one of their worst performances of the season... second, possibly, only to that monstrous 8-2 drubbing to Manchester United, early in the season.
The result was never really in doubt. AC Milan have now all but qualified for the quarter-finals of the 2011/12 UEFA Champions League, with this 4-0 thrashing of Arsenal. And Wenger must now come up with, at the very least, new and innovative excuses as to why his team capitulated, particularly after insisting they were capable of "Champions League glory".
In retrospect, even Wenger must admit the absolute futility of playing the likes of Johan Djourou against bullies like Zlatan Ibrahimovic and Kevin Prince-Boateng or tricksters like Robinho. Further up the field, long-since jaded players like Tomas Rosicky and a footballer whose absolute sole strength is pace... against a tactically well set-up Italian outfit with all the experience of Clarence Seedorf and Mark van Bommel... were never going to work.
Finally, the difference was perhaps most starkly felt from the bench. While Milan could call on Massimo Ambrosini, Alessandro Nesta and Pato, all Wenger really had at his disposal was Thierry Henry. The fact that he chose to leave Yossi Benayoun and Andrei Arshavin on the bench, rather than throw them all on and take a punt, must show just how little confidence he has in them.
As for the match itself, an opening goal from Prince-Boateng, a brace either side of half-time by Robinho and a late penalty by Ibrahimovic condemned Arsenal to having to play the second leg, at the Emirates, on turbo-power for 90 minutes and hope Milan have as bad a day as they did on Wednesday.
Check out the photographs of the action from the San Siro...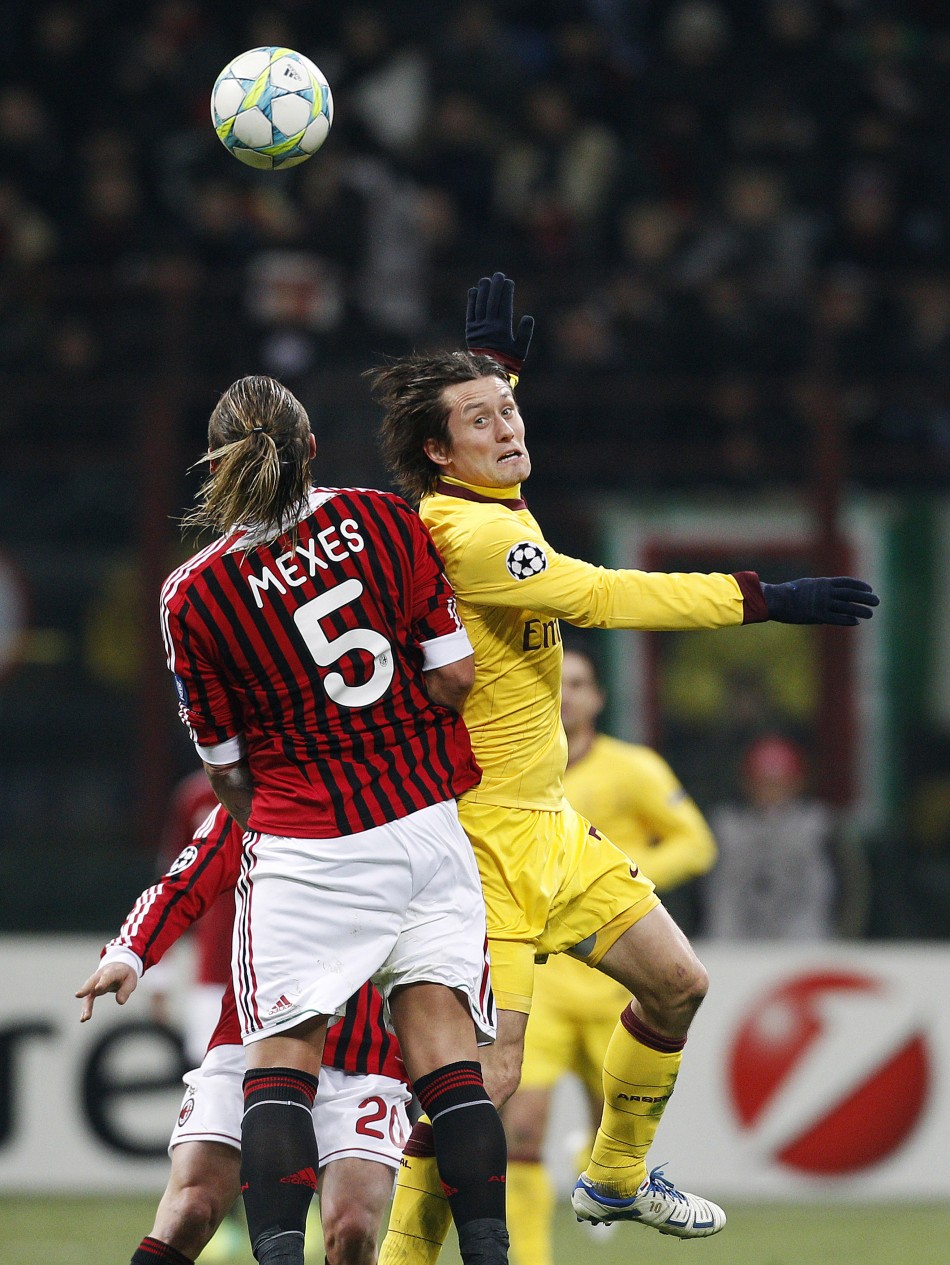 © Copyright IBTimes 2023. All rights reserved.