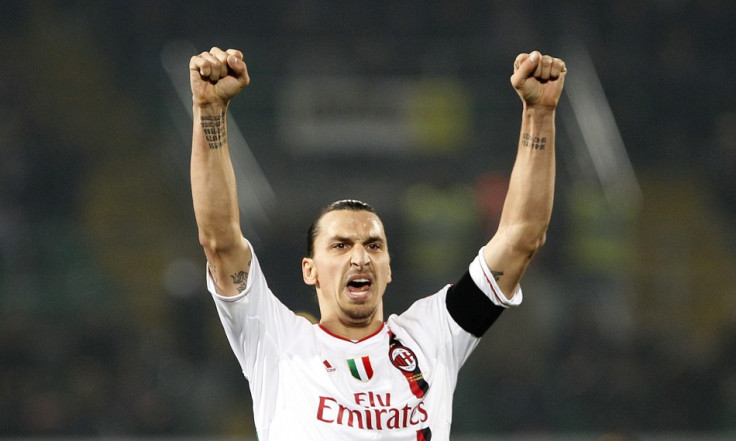 Arsene Wenger is probably one of the best judges and coaches of young football talent in the world. The fact that Arsenal have, over the years, not only produced a number of absolutely world-class footballers in every position (never mind the lack of trophies, this time) is testament to that.
However, as it turns out, there are some people who are immune to the Frenchman's charm... Zlatan Ibrahimovic, for example!
According to a report in The Sun, the current AC Milan star turned down the chance to join the Gunners because Wenger insisted on a trial period.
"Arsene gave me the famous red and white jersey - the No 9 shirt with Ibrahimovic on it and I was so pleased I even posed for a picture wearing it. It was a fantastic moment for me. Arsenal had a great team then and here was an Arsenal shirt made just for me. So then I waited for him to convince me that I should join Arsenal. But he didn't even try. He never actually made me a serious offer, it was more 'I want to see how good you are, what kind of player you are. Have a trial'. I couldn't believe it. I was like 'No way, Zlatan doesn't do auditions'. I thought 'You either know me or you don't and if you don't know me you can't really want me'," explained the Swedish international, in The Sun exclusive.
An incensed Ibrahimovic then went on to Dutch powerhouse Ajax. From there, he has played with almost all of the elite clubs on the continent and boasts a league-winning streak that is mind-boggling. He was won eight consecutive league titles, from 2004 on, with Ajax, Inter, Barcelona and Milan.
Incidentally, 2004 was the last time Arsenal won the league. Coincidence?
"So I said 'No' and, in the end, I signed for Ajax instead. It was the perfect choice. Maybe at Arsenal, maybe at Roma I would not have got straight into the team. At Ajax I did and so I was suddenly playing for a top club, winning titles and playing in the Champions League, too," continued the striker who, in a cruel twist of irony, has probably helped his team show Arsenal the exit door in this season's Champions League.
The Gunners were roundly beaten 4-0 (with Ibrahimovic scoring the fourth) in the first leg of the Round of 16 tie between the two sides. The second leg is on Tuesday night and Arsenal will be desperately hoping the big Swede forgets to pack his goal-scoring boots.
As for Ibrahimovic, he knows this tie isn't over.
"That Tuesday night match was just a moment - a big moment for us and a bad moment or them. Sure it is a moment that can change things at a club, especially mentally. It has lifted us, it will hurt them. But they can recover. They started the season badly. I remember they lost by eight to Manchester United but they have fought back well from that. And l am a big admirer of Arsene Wenger. He buys good quality players and makes them even better. He takes new, young players and makes them stars," he concluded.