When last summer's transfer window opened, Arsene Wenger had already begun on the backfoot, with the Arsenal manager having to justify his insistence that he would keep Cesc Fabregas and Samir Nasri at the Emirates no matter what.
The Frenchman went so far as to claim that the Gunners would not be a big club if they were to let go of the pair.
"Imagine the worst situation - we lose Fabregas and Nasri - you cannot convince people you are ambitious after that," he said in July.
"And even if you lose Nasri, to find the same quality player, you have to spend again the same amount of money. Because you cannot say, you lose the player and you do not replace him.
"I believe for us it is important the message we give out. For example, you talk about Fabregas leaving, Nasri leaving.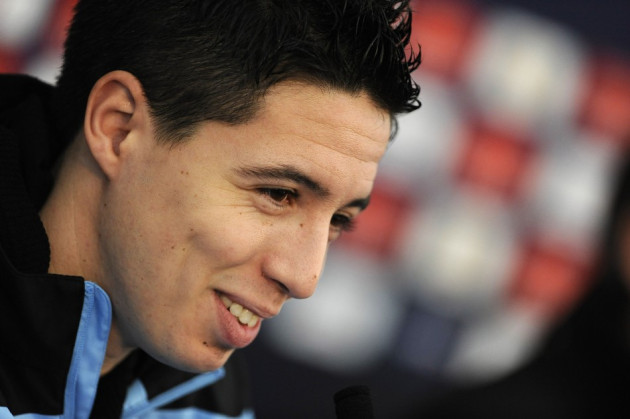 "We worked very hard with these players for years to develop them, and now it's a time for us to keep them together."
Fast forward to the end of the summer, and Wenger was having to backtrack on his comments and explain why Arsenal would still be able to challenge for trophies.
As much as Fabregas was a big part of the club, his continual hints at wanting to return home had left a lot of Gunners fans accepting of the situation surrounding his exit. Nasri, however, was much harder to swallow, with the midfielder later claiming he took a move for a club with more passionate fans and the ability to win trophies.
At the time, Arsenal couldn't have been in a worse position. Pundits and fans, in part at least, widely blamed the sale of Nasri for why the team weren't gelling properly and had boasted their worst start in over 50 years.
But now, as Manchester City fall to what looks set to be a trophyless season, it seems it was Nasri who made the wrong decision and not Arsenal.
And the France international's tweets last week appeared to show that maybe Wenger didn't say yes to the bid from Manchester City because he couldn't refuse the big money fee, but rather because Nasri wasn't a player who he felt was at Arsenal for the right reasons.
"All the arsenal fans move on 10points ahead of you just support your team and forget about me," he wrote, and this tweet formed the icing on the cake made up of a range of insults directed at Arsenal fans since the 24 year old left.
Juxtaposing this with Cesc Fabregas's attitude since leaving Arsenal, with the former skipper tweeting about how he still checks results for the club, and he still cares about his old teammates and fans; even if it is a PR stunt, it shows far more respect for the thousands of kids who paid big money to wear his shirt with pride while he was a Gunner.
Nasri, meanwhile, has shown the opposite sentiments to those fans, and hasn't exactly been appreciative of the club that gave him three years to showcase his talent in one of the best leagues in the world.
So maybe Wenger wasn't completely daft in his decision to get rid of the star after all? Maybe, what really happened behind the scenes, was that the manager came to the conclusion that he didn't want a player whose heart wasn't in the club?
Either way, Arsenal fans seem to be having the upper hand after Nasri's comments, and their wind-ups getting to the man who says he turned down a move to the likes of Manchester United because he wanted 'to win titles.'