Ashley Young has given his thoughts on Manchester United teammates Wayne Rooney and Rio Ferdinand, as England prepare for their first group stage match against France on Monday.
England left for the tournament at the start of the month with controversy brewing over Ferdinand missing out on selection, with the defender not chosen for 'footballing reasons' according to Roy Hodgson.
Ferdinand kept silent on the issue, until Gary Cahill was injured and Martin Kelly was chosen as a last-minute replacement over the United star, and tensions boiled over as he admitted to being unhappy with the situation.
But Young, who has a great deal of pressure resting on his own shoulders leading England's attack in their Euro campaign, believes that Ferdinand has a lot to offer his international team as the two play together for United.
"I think Rio's said he's not looking to retire, he's disappointed he's not in the squad but it's not for me to pick the squad, it's the manager, so that's as much as I can say on it," he said in Krakow.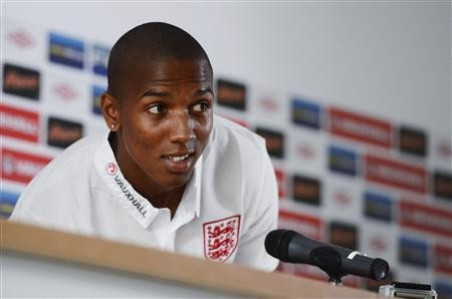 "He's said he's not going to retire and he's a fantastic player. I've played with him this season and for England in previous [seasons] and he's a great player to play alongside."
Meanwhile, Rooney is in the difficult position of being an influential part of the England squad, and having been on form for United this season he would most certainly lead the front line-up if it wasn't for his two-match suspension.
But Young sees every squad member as equal, whether they're experienced or new to senior international football, and says Rooney is as much a part of the team whether he can play or not.
"He's handling it very well," he explained. "He's a world class player and obviously it's disappointing not to have him for the first two games but you've just got to get on with it.
"You know he's been in the squad keeping everyone together and everyone's been getting on with everybody and it's important to do that even though he's not involved in the first two games.
"Everybody's helping each other out, and everybody talks to everybody, you know if you've got something to say whether you're a youngster or a senior you're able to say it.
"Everybody wants to help each other out, we're a team, and want to go forward, and everybody's pushing in the right direction."
Young is ready to take charge of the attack on Monday, and says he is hoping to build on his tally of five goals in seven international matches so far.
He said: "I'm feeling very confident - I'm entering the first game feeling very confident.
"To get goals and assists, it's always nice, and everyone in the squad is feeling very confident ahead of that game. I'm sure that if we can go in there and put in the displays that we've shown in the last couple of games we'll go there and get a good result."