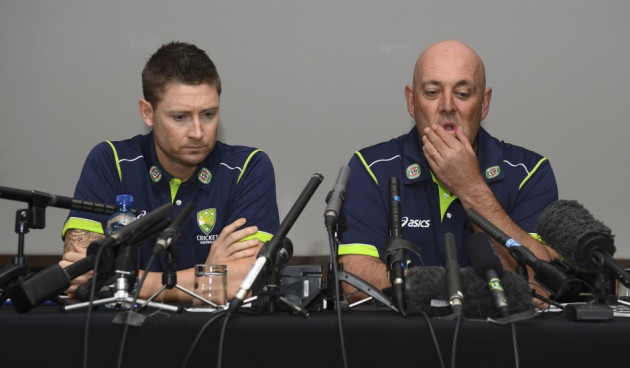 Look away now and luckily it'll all be over in a couple of months. That's what this Australian-born writer has been telling herself for the last week or so. It'll be like taking off a band-aid or getting an injection; except the band-aid/needle combo are taking weeks upon weeks to be finished with, and the nurse is laughing and making the cruellest jokes in your face while you have to sit, with your eyes closed, hoping for it all to be over until Christmas at least.
Those of us who still remember the days when Australians were the ones who other sporting nations were jealous of are mourning the days of old. We had Kieran Perkins drinking milk and swimming like no American; our Olympic medal tallies were making the Brits coil in humiliation; Pat Rafter was putting up a fight in the tennis and being the down to earth guy we wanted to have over for a BBQ. Our rugby team were winning the World Cup twice in a decade and our cricket team ripped every other side in the world to shreds whenever the schedule called for it.
Now, we're watching on the sidelines, wishing for what was, while Britain experience what we once did. The sacking of Mickey Arthur was perhaps the most painful for Australian cricket fans in of a series of blunders by cricket Australia. It was the tip of the iceberg as we finally took a nervous peek under the water to see just how much rebuilding this side would need to become a real challenge once again.
Rivalry is one thing, and sheer grit and courage to overcome the underdog tag are what us Australians love about our most successful sportsman, but this alone won't win against an England team in their prime over five Test matches.
Still, we have to have hope that the seemingly impossible will happen, as the Australian press will be praying that they don't have to print any more covers containing images like the ridiculous sprinkler dance being performed on their home turf by their most hated opposition again.
Batsmen, Underdog Tag And Clarke Factor Can Take Aussies Higher
The Herald Sun's Malcom Conn is hopeful that it's the Australian batsmen who can lead the charge to bring England back down to earth. Shane Waston was a shining light in an otherwise terrible performance in the last Ashes, and it could be up to the 32 year old to lead the line, while Ed Cowan and Phil Hughes have a chance to prove they are capable of achieving more than in past Test series.
On David Warner's controversy, with the batsman remaining in the side despite punching an England player in a pub recently, he writes: "It is difficult to know how much Warner realises but he owes his country and the game big time after the mess he has made during the last month or so.
"How an Australian cricketer can punch an opposition player in a bar at 2.30am and not be sent home is beyond me.
"Warner had better make the most of the opportunity he doesn't deserve."
National newspaper The Australian takes the predictable but justified line that Australia can take advantage of England's position as favourites in the tournament and exploit it. If there's one thing that makes the rivalry between England and Australia all the more exciting, it's that when the two face off anything can happen despite past form and reputations.
The paper cites a lack of drama in the England squad as setting them up for extra pressure to succeed, while Australia, under a fresh new coach with huge credentials in Darren Lehmann, have the chance to take advantage of the side's cockiness on the back of the expectation that they will follow the succes of the Lions and Andy Murray.
Meanwhile, Aussie cricketing legend Steve Waugh has insisted that Michael Clarke's leadership alongside Lehmann will be key to the side's attitude when they step onto the ground and aim to work more as a team.
Waugh wrote for Fox Sports Australia: "There should be no surprise in that regard for any of the team and Michael Clarke needs to reinforce to all that they must enjoy and relax in the way they play their cricket. It will be reassuring for the captain to have a coach in Darren Lehmann whose DNA is encoded with an excess of fun games.
"Many captains place an undue emphasis on the outcome of the toss and Clarke must convey an attitude of it doesn't matter what we do first so long as we do it with purpose and intent.
"The first session of the first Test will often set the tone for the whole series, so it is essential that his team is switched on from ball one and that they play without fear or hesitation."
What They Say
Michael Clarke on the omission of Nick Compton from the first test: "I'm happy Nick's not playing to be honest. He's got a bit of class and has good defence. We haven't bowled to Joe Root yet."
Darren Lehmann on selections: "We're really keeping the side quiet until the morning of the Test match," Lehmann told radio station 5AA this evening.
"All the 18 are in the mix. The reason for not telling anyone the side is basic - we've got an advantage in that regard that they don't know who we're going to pick.
"That's an advantage for us so we may as well use it."
Shane Warne on Michael Clarke: "Michael thrives on responsibility and pressure. He scores runs when Australia need him to, which is a great trait to have as a captain, it's also a trait that the great players have - performing when the team needs them most.
"I know he is excited about the Ashes and is very happy with the new set‑up. He feels there is a good structure in place now. Australia have regrouped well after a horrific start to the England tour. I really believe the Clarke‑Darren Lehmann partnership will be successful.
"He is a tough captain. He demands and expects the highest standards from everyone. He will not tolerate any player not giving themselves every chance to perform and wants every player to give everything 100 per cent of the time.
"His philosophy and outlook is to be aggressive. Remember back to the recent first innings in Hyderabad when he declared on day one at 237 for nine so his bowlers could have eight or nine overs at the opposition before the close. He has no fear."
Is there any hope for Australia in the Ashes? Tweet IBTimesUKSport and have your say.