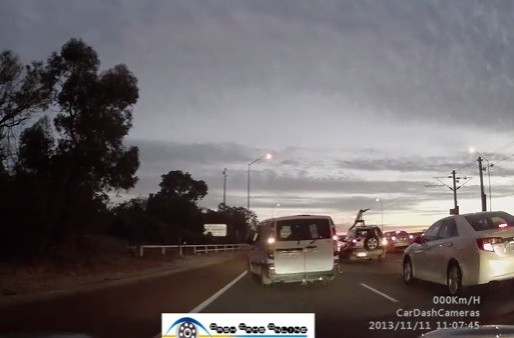 A man in Australia has been filmed headbutting moving cars on a freeway in Perth.
The man has caught on camera running through traffic and hurling himself headfirst at cars.
The incident took place after the man crashed his car into an unattended vehicle parked in the emergency lane of the Kwinana Freeway, the Herald Sun reports.
Witnesses said the man became extremely agitated and got out of his Mazda before running into the oncoming traffic.
He jumped on to the bonnets of several cars and hurled himself into the side of another. The incident caused a major traffic jam while the man was apprehended.
One of the witnesses who filmed the crazed man uploaded the video to YouTube.
The man was eventually apprehended and is being treated at the Fremantle hospital.
A police spokeswoman said inquiries are currently taking place and that they do not know if alcohol or drugs were involved.
One viewer suggested his behaviour was the result of frustration of slow-moving traffic: "This is what happens when you have to sit in a car driving at 2km/hr for 30 minutes every day, perfectly reasonable," they said.