It was a meeting of Germany's two best sides in the Champions League final last night, and Bayern Munich showed that they will be a team to be feared not just in the Bundesliga, but across the board after their win brought home the treble.
Jupp Heynckes completed the perfect last game in charge of the Bavarian giants, before the club is handed to Pep Guardiola in possibly the best state he could have asked for.
Heynckes, who broke down in tears in his final Bundesliga game in charge of the club, was in a mood befitting of a man whose side had just been crowned champions of Europe as he insisted they would now dominate for seasons to come.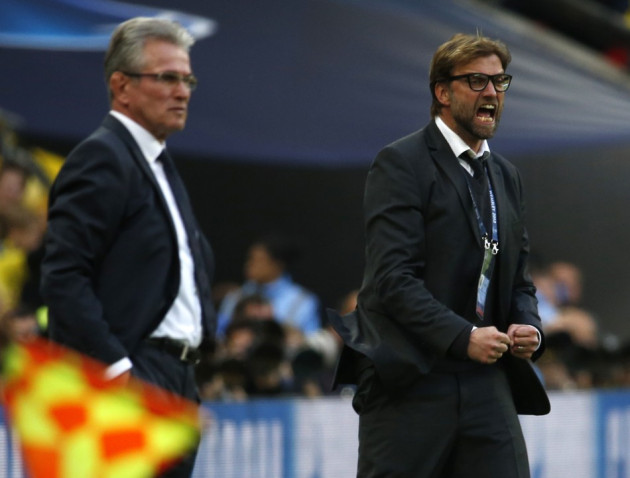 ""My successor will of course be able to take over a perfectly functioning team," he said.
"We know Mario Goetze will be joining and I don't think Lewandowski will be hanging about too much either, and then of course you've got two top attackers as well.
"(Chairman) Karl-Heinz Rummenigge has played a big part in this last summer in completing the team with the risky transfer of Javi Martinez -- I mean risky in terms of the price tag, not the quality of the player -- and Xherdan Shaqiri, and Dante.
"All the players have been bullseye successes. Of course FC Bayern will have to prove they can continue to achieve these things. But it's quite possible that a new era in Europe may be beginning under FC Bayern."
The coach also insisted that he had not been forced out to make way for Guardiola, saying he had chosen to make this season his last for the club regardless of the incoming manager.
Meanwhile, for Klopp, disappointment was obvious as his one last chance to thwart Bayern to a trophy in the 2012/13 campaign failed.
His hopes of dashing their Champions League ambitions, with a side currently on a fraction of the wage bill of the Bundesliga champions, sorely missed the injured and now outgoing Mario Gotze, with Robert Lewandowski putting in an uncharacteristically off-performance.
And the Dortmund manager admitted it would take some time to look back on this campaign and feel proud of what his club had achieved.
"At one point I thought the match was so open we could have won it," he explained. "There were perhaps a few things we could have done differently, but I'd like to congratulate Bayern and Jupp. I really think he deserves this title.
"First we have a holiday, then I have to buy some new players. We might need a new team. I need some time to feel proud again. I'm sure it is still in me somewhere, but at the moment the disappointment prevails."
And in his usual manner, Klopp added: "It's been great. The weather, the stadium, the game, the lot. Only the result was shit."