Bayern Crowned Champions After Robben Strike Gifts Side 2-1 Win Over Dortmund
Bayern Munich make up for seasons lost with a 2-1 win over Borussia Dortmund to crown the Bavarian giants champions of Europe
Bayern Munich have made up for disappointments of the past, with the Bavarian giants crowned Champions League winners after a 2-1 defeat of local rivals Borussia Dortmund.
Dortmund began the first half without the nerves that many had tipped them for, working to their best strengths and attacking wherever possible rather than just defending.
The compact nature of the Bundesliga came to show, with counter attacking the key for both Dortmud and Bayern rather than the possession-football that many fans of the Spanish style are used too in the latter stages of the Champions League.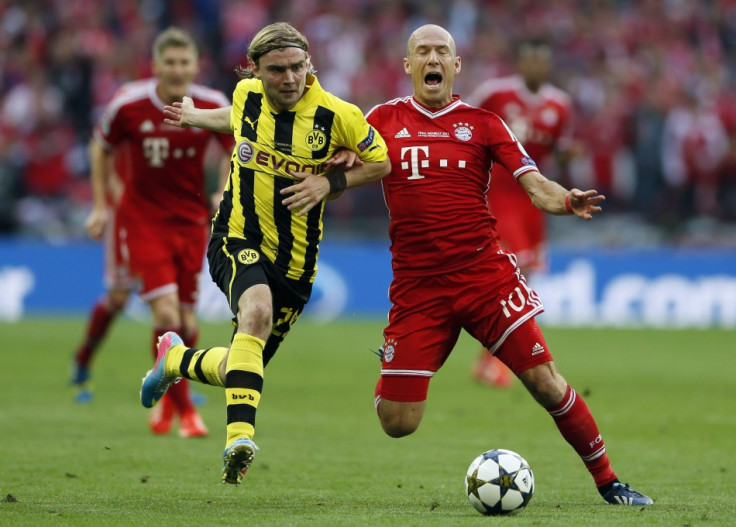 Both keepers kept their side in the game throughout the first half, with Roman Weidenfeller and Manuel Neuer both putting in top-class performances for their respective sides.
The second half brought more of the same as the first, but Mario Mandzukic found space thanks to Arjen Robben's pass to create the opening goal for the match, putting Bayern up 1-0.
Klopp made his case over the goal possibly being offside, with both players looking to be ahead of the defenders, but the referee ignored the eccentric manager.
The game continued to be dominated by Bayern, but Dante made the ultimate mistake of putting his leg out directly in front of Marco Reus in the box, making contact and causing the referee to point to the spot. Gundogan was chosen to take the penalty, and shot right straight into the right of the net.
With the score now 1-1, both sides continued to show their attacking flare, but tempers between the rivals came to light, with both Franck Ribery and Kevin Grosskreutz both handed a yellow card for their antics against one another.
With the final five minutes came around, both teams were pushing for the winner. And it was Bayern who took the scoreline to 2-1, thanks to Franck Ribery passing to Robben at just the right time to slot the ball in after passing by three Dortmund defenders.
Was this the defining moment in the game? It most certainly was. Bayern, after three lost finals in four years, became the champions of Europe thanks to Robben's winner. Dortmund players were left to wish for what was as Jupp Heynckes celebrated the ultimate last European game in charge of the club.
© Copyright IBTimes 2023. All rights reserved.