Erik Morales has become the latest sportsman to be caught up in a doping scandal after it was revealed that he had failed a random drugs test administered by the US Anti-Doping Agency.
The former four-weight world champion is scheduled to face Danny Garcia in a rematch of the bout he lost earlier this year and will have the opportunity to win the WBC and WBA light-welterweight titles.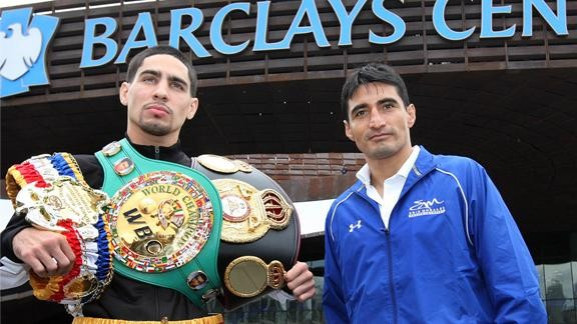 Despite his 'A' sample coming back positive, ESPN is reporting that that fight is still likely to go ahead as the results of the 'B' sample will not be available to after the fight which takes place on Saturday night.
The early reports are that Morales has tested positive for clenbuterol, a drug often used by asthma sufferers as it helps with breathing problems, however, it can be used as a performance enhancing drug.
In 2010 Spanish cyclist Alberto Contador tested positive for clenbuterol and was subsequently handed a two-year ban and stripped of his 2010 Tour de France title.
Polish sprint canoer Adam Seroczyński was disqualified for taking the drug at the 2008 Beijing Olympics, while St. Louis Cardinals minor-league shortstop Lainer Bueno received a 50-game suspension for testing positive.
The promoter of Morales, Golden Boy's Richard Schaefer told Sports Illustrated that there were some 'irregularities' and he did not want people to judge the fighter before the results of the second test.
"USADA has now started the process, which will play out. There is not going to be a rush to judgment," said Schaefer. "Morales is a legendary fighter. And really, nobody deserves a rush to judgment. You are innocent until proven guilty."
Unlike many other high profile sports there is no organisation testing for drugs across boxing and it has led to a number of fighters calling for random testing to be introduced.
Floyd Mayweather Jr has always called for the sport to be clean and has been even more vocal after a string of fighters failing drugs tests this year, including high profile names such as Lamont Peterson, Andre Berto and Antonio Tarver.
Peterson and Berto were both caught after agreeing to allow the Voluntary Anti-Doping Association to conduct tests, while Tarver was using the California commission testing.
Now we must wait to see the results from the 'B' sample of Morales and hope that there has been an anomaly like the one that happened during the FIFA Under-17 World Cup in Mexico when 109 players tested positive because of food contamination.
Morales is a legend of the sport but it is clear that there needs to be stricter rules put in place so that we can agree that everyone is on a fair playing field.
With Lance Armstrong currently in the news for what was described as the "most sophisticated, professionalised and successful doping programme that sport has ever seen", there is a clear need to show boxing fans that there is not a similar problem in the fight game.