When Floyd Mayweather announced that he had signed a new multi-fight deal with American broadcaster Showtime the internet was awash with rumours as to just who 'Money' would be facing over the next three years.
We were immediately given one answer when it was confirmed that Robert Guerrero would be his first opponent on Showtime on May 4 in Las Vegas. The Mexican was largely expected to be handed this opportunity, especially with the fight taking place the night before Cinco de Mayo.
The holiday is a celebration of Mexican heritage and pride; commemorating the Mexican army's unlikely victory over French forces at the Battle of Puebla on May 5, 1862. Should Guerrero defeat Mayweather then it will be equally unlikely, perhaps what is more feasible is that his supporters will be proud of a warrior's performance in defeat.
There is little to suggest that Mayweather will lose his undefeated record to Guerrero, therefore, should he fulfil his six-fight deal, he will potentially step inside a ring on five more occasions. But who are the five men likely to land a shot at the modern day great?
Saul Alvarez:
With Mayweather set to fight twice this year there is likely to be a Vegas show some time in September that will feature the 35-year-old. Twice in his last four fights he has fought on a day close to Mexican Independence Day - September 16. This year that falls on a Monday so perhaps the 14<sup>th will the date when he faces another Mexican in Saul Alvarez.
Nicknamed 'El Canelo' [The Cinnamon Kid] because of his bright red hair, Alvarez has amassed a legion of supporters and an equally impressive record of 41 wins. Despite being just 22-years-old, he is viewed as the rising star of boxing and will feature on the undercard of Mayweather on May 4 when he faces Austin Trout.
Should be get past the dangerous light-middleweight then the stage appears set. If there is one thing Mayweather enjoys equally as much as winning, it is money. This fight would guarantee box office sales and deliver huge pay-per-view figures. It would be a huge money-spinner and Mayweather would undoubtedly be confident of simply having too many skills for such a young operator.
Devon Alexander:
The current IBF welterweight champion has already been named as a possible opponent. Mayweather may simply have been using his name to force Guerrero into accepting less money but he remains a genuine contender.
Should he recover from his bicep injury then he is scheduled to face Britain's Kell Brook - another man that would love an opportunity against Mayweather - but his trainer, Kevin Cunningham, admitted they would jump at the chance to get in the ring with Floyd.
"We have no control over what Floyd says or does, but you know if a Mayweather opportunity comes about we're definitely interested in it," he told Sky Sports.
Alexander has just one defeat on his record and at 26-years-old is seemingly only improving. Should he continue to impress, and hold on to his title, for the rest of the year then he could be in line for a shot.
Amir Khan or Kell Brook: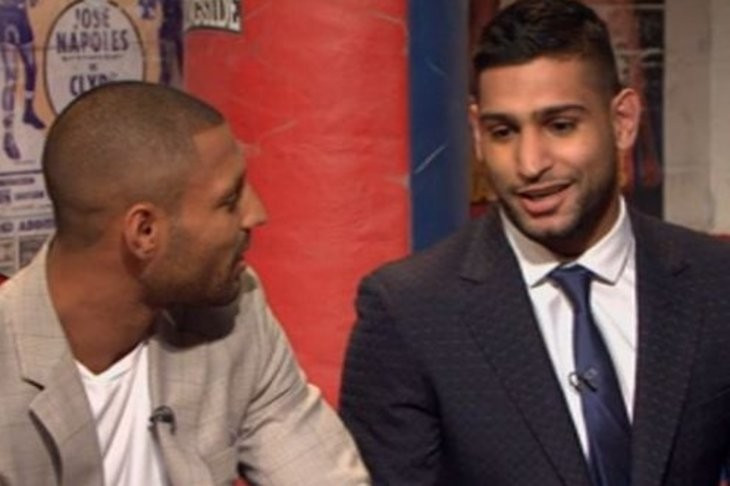 Mayweather has always insisted that he would like to fight in the UK and if the money is right then this could be a genuine option. Amir Khan is perhaps the most likely option, despite his recent troubles, as he has a huge fan base and the ability to draw massive crowds. He is still regarded as a superstar in America and a pay-per-view deal with a British broadcaster would, most likely, make it the highest grossing fight in British history.
Khan is still rebuilding his career and would have to move up to 147lbs but he has the pedigree and some decent names on his record. Alternatively perhaps in 18 months time it will be Kell Brook that is regarded as the best British fighter.
He is a fully fledged welterweight and holds the longest undefeated record of any current British fighter. Should he get his contractually obliged bout with Alexander then he may also be able bring a world title to the table. The problem is that there may not be the same interest in America as they have yet to be sold by the Sheffield fighter.
Manny Pacquiao:
This should have happened a number of years ago but there remains interest despite a brutal KO at the hands of Juan Manuel Marquez. There have been many excuses as to why this never took place but Pacquiao appears in his weakest ever position. He has less power at the negotiating table and that may well suit Mayweather.
The Filipino legend has stated that he will not fight in Vegas because of the tax laws but it may be different if Mayweather was involved. It would still be an astronomical amount of money and there remains that nagging question as to who is the best.
Pacquiao may appear on the decline but he may decide that he can prove his doubters wrong by finally squaring up to Mayweather. Admit it; we'd still love to see this one happen.
Adrien Broner:
The rising superstar is close friends with Mayweather and has always stated that he will take over the sport once his 'big brother' steps away from the game. Broner appears to learned every trick of the trade from Floyd: from his outrageous antics outside the ring to his scintillating style inside it.
While they are friends, each has an ego that demands they prove they are the best. Perhaps a passing of the torch will be given in the ring or maybe Broner will want to prove himself by dispatching his hero.
Mayweather may want success for Broner but should people question whether he could beat the young pretender, then friendship would not stand in the way of a good fight.