Gavin Rees has continued to get the best of Adrien Broner in the build up to their hotly anticipated bout this Saturday after managing to leave the outspoken American struggling for words after their latest head-to-head.
Broner has never been one to shy away from confrontation but it seems he has met his match in Rees who is supremely confident of causing an upset in Boardwalk Hall and inflicting a first ever loss on the brash 23-year-old.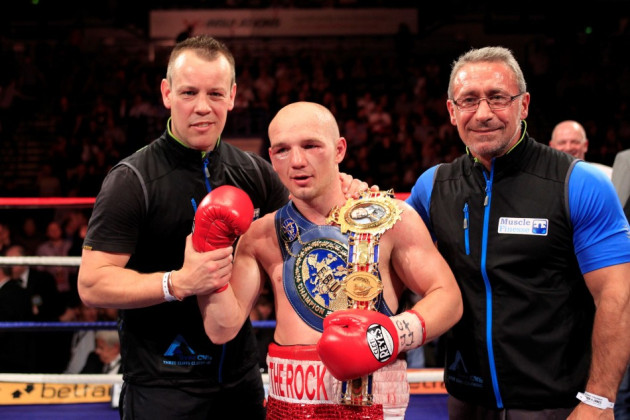 Rees' trainer Gary Lockett believes that Broner has underestimated his fighter and revealed how the Welsh fighter managed to outwit him during their pre-fight press conference.
"This is Gavin's 40th fight and he brings a wealth of experience to Atlantic City - that's a fact that has been overwhelmingly overlooked," said Lockett. "It has been said that he should never have taken the fight. What a stupid statement to make as he sits at number six in The Ring magazine rankings - testament to the fact that Gavin has both earned and deserves this shot!
"Broner tried to get under Gavin's skin at the press conference on Tuesday with some childish and disrespectful antics, but Gavin had all the answers. Gavin outwitted him and he hated every minute of it."
The road to Rees' shot at a second World title can be traced back to 'The Rock' teaming up with Lockett in March 2010. Along with Rees, Lockett's gym in Cardiff is home to rising stars Lewis Rees and Liam Williams, as well as former WBO cruiserweight champion Enzo Maccarinelli and former European middleweight champion Kerry Hope.
Lockett's reputation as a trainer in Britain is blossoming but he remains focused on getting the best out of his boys.
"We get on really well but it's no secret that Gavin used to be a party animal," said Lockett. "When he approached me and asked me to train him I read him the riot act. He responded with a remarkable attitude and discipline toward his training that has led him to the shot at Broner on Saturday and I can only praise him.
"It's flattering that people are saying really nice things about me but truth be told, I've got a lot to learn and I find the best way possible is to learn from my fighters. You have to learn from every fighter's habits and there's no one magic formula that works for everyone - you have to work with them day in, day out to get it right for them."
Rees believes that he has not been shown any respect by Broner, despite being a former world champion, and even suggested that some American fans will be hoping he can defeat their fellow countryman.
"His attitude stinks man," said Rees. "He shows fighters no respect, but he hasn't even earned the right to do that. What has he done? I've been in the States for five weeks now and American boxing fans don't like him."