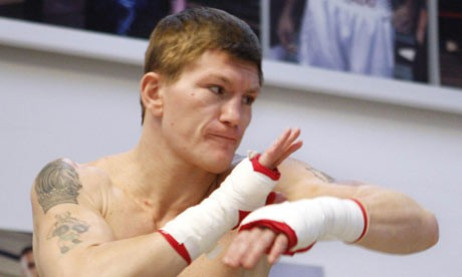 When the Manchester City anthem Blue Moon rings around the Manchester Arena on Saturday night and Ricky Hatton is given a heroes reception, it will signal the beginning of one of the most remarkable comebacks in the sport of boxing.
The last memory of Hatton conjures up images of the loveable Mancunian flat on his back after a devastating knockout at the hands of Manny Pacquiao. The years of yo-yo dieting seemed to have caught up with the Hitman and British fans said a teary goodbye to one of their most beloved sportsmen.
For the next three years, Hatton battled depression and ballooned up in weight as he became almost unrecognisable from the man that wore down the hardened Kostya Tszyu to win his first world title. Drugs, alcohol problems and suicidal thoughts seemed to have put an end to any idea of a comeback.
Yet, Hatton has showed all the characteristics that made him a great fighter in the ring, courage, heart, determination and an iron will. He has fought away his demons and four months, and nearly five stone lighter; he is ready to enter the ring once more against the former WBA welterweight champion Viacheslav Senchenko.
The 34-year-old looked in incredible shape as he showed off his new physique, but he will still have to answer many questions; will his punch resistance have gone, can he go 10 rounds, will he still have the same power?
All of these questions will be answered on Saturday. But to celebrate his return, and to inspire his fans, we have come up with five fighters who showed Hatton exactly how it's done.
George Foreman
The ultimate comeback king and one of the most ferocious punchers to ever step inside a ring. Foreman would retire on a number of occasions in his lengthy professional career but it was his return to the ring in 1994, some 20 years after losing to Muhammad Ali in the Rumble in the Jungle, that was his most remarkable. At the grand old age of 45 he would comeback as a massive underdog against Michael Moorer who had just defeated Evander Holyfield to pick up the title. Foreman was given virtually no hope and for nine rounds the doubters were proved correct. Then a huge overhand right exploded onto the chin of Moorer who was unable to beat the count of ten. The title was once again Foreman's, fully 21 years after winning it for the first time against Joe Frazier, simply amazing.
Sugar Ray Robinson
Arguably the greatest boxer in the history of the sport and a true pound-for-pound legend. Robinson was virtually unbeatable, and frankly untouchable, for the majority of his career as he amassed a sensational record of 131 wins and just three losses. He finally retired in 1952 but was unable to keep away from the sport he so dearly loved. Two and a half years later he would return and win the middleweight championship for the third time, then later in his career for a fourth time having lost and regained it against the same fighter in Gene Fullmer. He would continue to box for another 10 years and ended his career with 179 wins and 19 losses, fully deserving of a place on this list.
James Toney
Lights Out was one of the most feared super middleweights in the world as he racked up 44 wins without a single loss. This was a fighter raised on the tough streets of Michigan who wanted to destroy his opponents. Yet, he appeared to go off the rails when losing to his arch rival Roy Jones Jr in 1994. Another loss to Montell Griffin, and with his weight a real issue, Toney appeared a shade of the fighter he once was. There may not have been an official retirement but his weight issues looked to have destroyed his career. However, having rededicated himself to the sport he would go on to defeat Vassiliy Jirov for the IBF cruiserweight title, before moving up to heavyweight and becoming only the second man to stop Holyfield.
Sugar Ray Leonard
A fighter truly deserving of the title 'sugar', Leonard was one of the slickest operators in boxing and will forever be remembered for his epic middleweight battles with legendary fighters Roberto Duran, Thomas Hearns and Marvin Hagler. However, in 1982 he was forced to retire as there were genuine concerns he could lose sight in his eye after he discovered his retina had been detached. Two years away from the ring followed before the urge became too much. He would return to the squared circle in 1984 and go on to reclaim the WBC title with victory over Hagler, before once again defeating Duran in 1989.
Oscar de la Hoya
The Golden Boy would win 10 world titles in six different weight divisions during an epic career which thrilled millions of fans around the world. Oscar had the charm and wit to match his boxing ability and never failed to entertain with his aggressive style. Having worked his way up to middleweight it was almost inevitable that he would find the power of Bernard Hopkins simply overwhelming. It turned out to be the case and De La Hoya would disappear from the ring for nearly two years. When he did come back he immediately picked up yet another world title by defeating Ricardo Mayorga and continued his pattern of challenging the best in the business. Two losses to Floyd Mayweather and Manny Pacquiao did little to dent his reputation as he continued to prove, even after a two year exile, that he was one of the all-time greats.