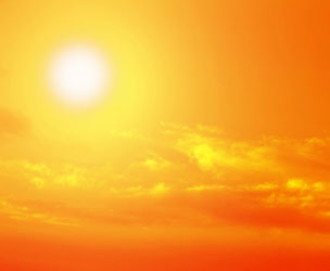 Forecasters are predicting "the hottest day of the year" this weekend, with the temperature in south-east England set to be higher than Corfu and Ibiza
Temperatures are expected to soar to a sizzling 25C (75F) in the south-east by Saturday - bad news for the players of Arsenal and Hull City, who will be sweating it out in the FA Cup final at Wembley.
Mark Wilson, a Met Office meteorologist, said forecasters were "pretty confident we will see the warmest day of the year so far.
"I definitely think there's a chance the odd spot could approach 25C."
Although southern England and East Anglia are getting the best of the weather this weekend, highs of 81F (27C) are forecast for the north by middle of next week.
But Netweather has warned soaring temperatures could trigger thunderstorms and the risk of torrential downpours.
Forecaster Jo Farrow said: "To the south there could be a few heavy showers set off as temperatures creep into the low 20Cs [on Saturday].
"Next week looks a bit of a push and shove affair. If the southeast of Britain can hold on to the fine weather temperatures will rise even further."
Warmer temperatures are predicted to continue until June according to a recent Met Office report.