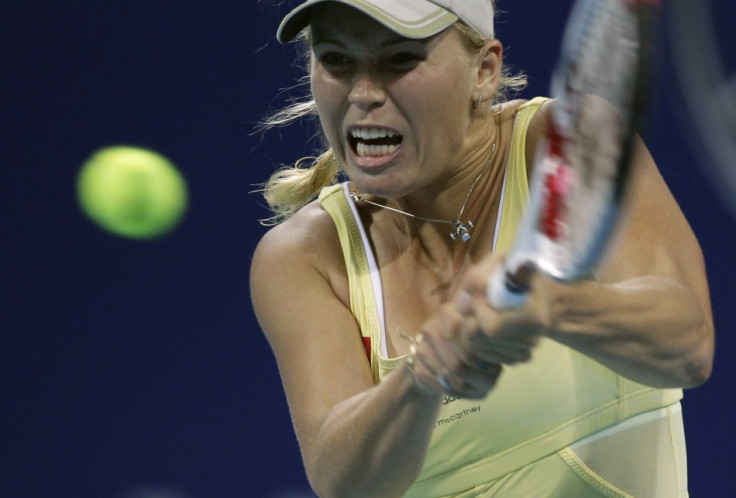 Caroline Wozniacki has called for tennis' loudest grunters to be quietened, after effectively accusing some of the worst offenders of cheating.
The world No1 has claimed that those who shriek loudest on the women's circuit are "doing it on purpose" and said it gives many an unfair advantage over their more modest opponents.
Talking to reporters in Istanbul where the leading players of the WTA Tour are playing their end of season championships, Wozniacki drew attention to the likes of Victoria Azarenka and Maria Sharapova who, she claims, are only loud on the courts.
"I think there are some players who do it [grunting] on purpose," Woznacki said.
"They don't do it in practice and then they come into the match and they grunt. I understand if they do it in practice and in matches, that's different. I think they [the officials] could definitely cut it."
The shrieks and moans of tennis' top female players have drawn scrutiny from officials in the past, with spectators and television viewers increasingly put off by the decibel levels on court; and Wozniacki believes that excessive noise can give the offender an unfair advantage.
"If you grunt really loudly, your opponent cannot hear how you hit the ball. Because you think the grunt is so loud, you think the ball is coming fast and suddenly it just goes slowly.
"Especially in tight moments, maybe the grunt helps them with getting less nervous."
Wozniacki's comments may have been designed to unsettle Sharapova and Azarenka, two of her chief at the WTA finals this week. The Russian's grunts have been measured at levels above 100 decibels, while Azarenka's longer shrieks are higher pitched but last an average of 1.5 seconds, long enough to still be heard while her opponent is returning the ball.
"I think the grunting can definitely be a little bit disturbing, especially for the crowd," she said.
"I've had a lot of people come up to me and say it's not really nice, we always turn the volume off [ on television]. That's not what you want to hear."
Stacey Allaster, the chairman and chief executive of the WTA, agreed the issue should be examined but cautioned the problem was not isolated to the women's game.
"The guys are grunting as well," she said. "It's not unique to women's tennis. But our female DNA transmits it in a different way."
Rafael Nadal is one name that springs to mind but fans have suggested that it is the pitch of some of the women that is most off-putting.
"I'm very focused on the fans and I have seen a slight increase in the fan comments that we're receiving," Allaster added.
"So I do think on that basis that we should look at it. And I think if we're going to make any changes it needs to be with the junior players."