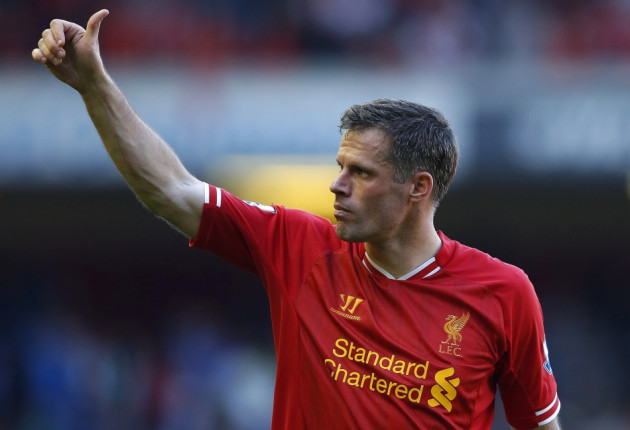 Former Liverpool defender Jamie Carragher has jumped to the defence of Steven Gerrard in the wake of criticism of the England captain in ex-Manchester United manager Sir Alex Ferguson's latest autobiography.
Despite admitting he wanted to sign Gerrard in 2004, Ferguson recalled that Gerrard was never a "top, top player" while he also criticised fellow Reds midfielder Jordan Henderson.
Carragher, who retired last summer after 17 years at Liverpool, says Ferguson is wrong about Gerrard - who has won over 100 England caps and captained his club to the Champions League in 2005.
"Some of the things Ferguson has said about Liverpool are right," Carragher observed in the Daily Mail. "Others are totally wrong.
"Take the reference to Steven Gerrard not being 'a top, top player'. I was flabbergasted. He won a Champions League final almost single-handedly in 2005. I didn't see anyone do that for Ferguson on the two occasions Manchester United won it, 1999 and 2008.
"Ferguson's opinion is authoritative but I'd love to know who he does class as a 'top, top player'; he says Stevie never got a kick against Roy Keane and Paul Scholes, but I don't remember that to be the case.
"What I do remember is Stevie scoring big goals against United - like the League Cup final in 2003 - and setting up winning goals for Danny Murphy at Old Trafford.
"I remember Stevie's energy, desire and talent rattling United when we played them.
"Look at it the other way," he added. "Put Keane or Scholes in a Liverpool shirt and let them play against Stevie with the other alongside him.
"I would have been surprised if they could have done more on their own than Stevie. Keane and Scholes had the advantage of being surrounded by more great players."
Ex-Liverpool boss Roy Evans has already weighed in on the argument regarding Gerrard, stating it is wrong for him to be compared with Paul Scholes.
Gerrard's career with Liverpool is littered with inspirational individual performances including in Istanbul during the Champions League final in 2005 against AC Milan and then again in the FA Cup the following year when a late goal against West Ham United inspired victory on penalties.