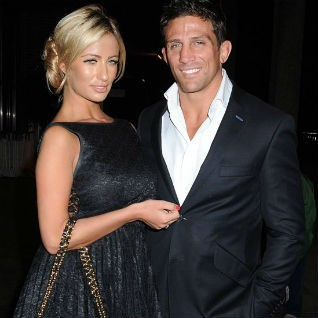 The Big Brother star Chantelle Houghton and her cage fighter fiancé, Alex Reid, announce that they are expecting their 'miracle baby' after she was told by doctors that she may never conceive naturally
The 26-year-old reality TV star and her 36-year-old cage fighter fiancé Alex Reid said that they are over the moon when the found out the news four-weeks ago, just as they were planning to embark on IVF treatment.
The couple who got engaged last month were planning to start a family when they were told by doctors that Houghton may be infertile after extreme dieting.
The stars shared their good news in the latest issue of Ok! magazine. The model told OK! : 'I'm going to be the yummiest mummy there is. I'm milking it, trust me. I've told my friends and family, if I'm going through it, you're all going through it.'
Reliving the moment she found out Houghton said: 'I couldn't move. The only thing that would move was my hands, shaking. I was in shock.'
'We were a week away from starting IVF. The thought of conceiving naturally had gone out of my mind completely - I didn't even think it was possible,' she added.
Celebrity Big Brother winner Reid, who split from his wife Katie Price in January following 11 months of marriage, is currently waiting for his divorce to be finalised.