This Easter Weekend saw the British Cheerleading Association's National Championships at Telford's International Centre. The Championships are a huge annual event, drawing crowds of more than 9000 spectators and athletes from across the country, some as young as three, up to University and senior World Championship level.
You may be surprised to learn that cheerleading has seen a huge increase in the numbers of males competing. But according to Chris Humphreys of Oxford University's mixed Sirens team, you shouldn't be.
"I really enjoy it, it's very athletic and demanding,... even though it's such a short time, it's very intensive... a great mix of athleticism and team work" Chris says proudly.
It's also good for children. Four years ago figures from the Department of Education showed 37% of schools were already offering cheerleading in PE lessons. As the figures suggest, it's a very versatile sport.
"There's different parts of cheer that suit different people", said Carli Bacon, coach of Casablanca Cheer. "Anyone can compete to a high standard.
"Although the routines are only two and a half minutes long, they require flexibility, stamina, speed, agility, coordination, balance and fast reaction times. So all the components of sport and fitness are used in cheer".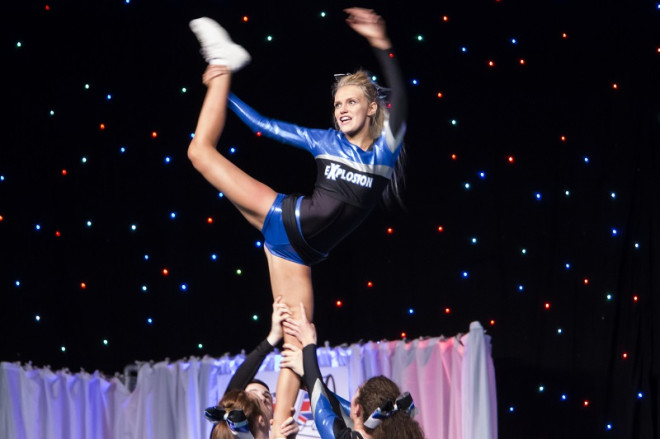 But is it a sport? According to organiser Derek Kent of the BCA, the answer is an emphatic yes.
"It has a clear set of international rules. ICU (the International Cheerleading Body) and Sport Accord, who work for the Olympic committee, have now recommended that cheerleading becomes an Olympic sport. This might take a few years because they have to go through a process, [but] it's just a matter of time."
Oxford University's Chris Humphreys was equally positive when asked whether cheerleading is a bona fide sport, saying "definitely! there's competitions and different leagues. Cheerleading is one of the UK's fastest growing sports. Also it's very good for lower years but it's more and more popular at University level as well."
Additionally the business of cheerleading is booming. In the US it was a $2 billion industry five years ago and still growing strong. When you consider all the business sectors involved - gyms, clothing, music, advertising and marketing, education etc - that's hardly surprising.
"We've certainly found that cheerleading is becoming more popular. In the last six months we've tripled in size," says Bacon.
"Cheerleading is unique...the team spirit and work ethic you might not get elsewhere."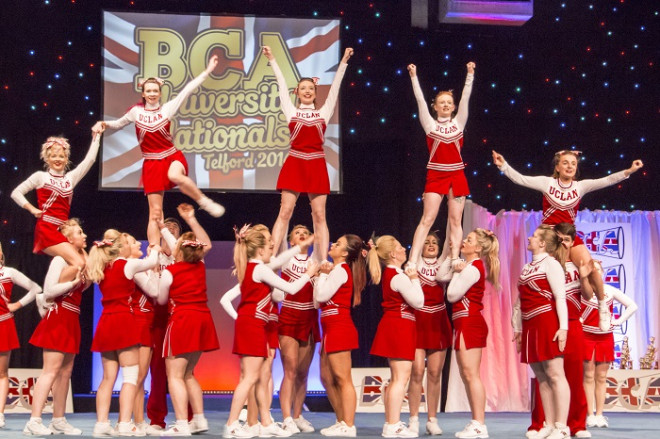 It's this attitude that impresses corporate America as well. US Head hunters often get requests for ex-cheerleaders. They know how to set goals and work hard to attain them. Attractive, energetic and personable people who can work a crowd are especially effective and sought after.
Chris Humphreys is one of them. His 'can do' attitude is there for all to see as he proudly recounts the motto...
"Boys lift weights, men lift women but real men lift cheerleaders".