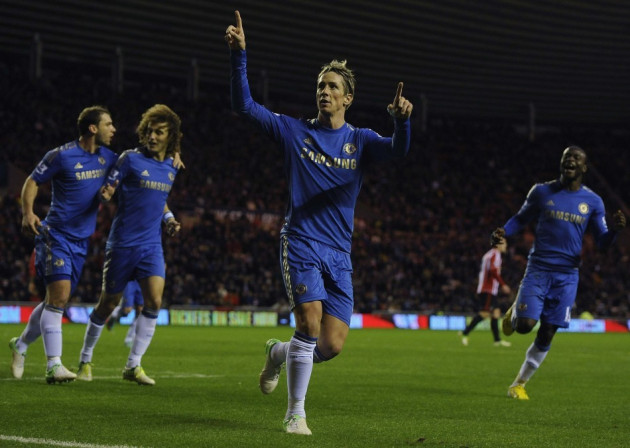 Chelsea striker Fernando Torres has revealed he became interested in football due to a Japanese cartoon series called Captain Tsubasa.
The Spaniard started his career at Atletico Madrid before joining Liverpool in the 2007 summer, and moved to Chelsea in early 2011. The La Roja international is currently in the Asian nation with the Blues for the FIFA Club World Cup.
"I remember when I was a kid, we couldn't find the signal really well on TV, but everyone in school was talking about this cartoon about football, from Japan. It was a series called Oliver y Benji in Spain, and in Japan it was Captain Tsubasa, and these two young players started as youth team players, got into the national team, won the World Cup, and moved to Barcelona and Bayern Munich, then moved to Europe, so it was like a dream," the Daily Mail quoted Torres as saying.
"I started playing football because of this, and because my brother forced me, and I loved the cartoon. I wanted to be Oliver, because he played out on the field and Benji was the goalkeeper. That was the first contact I had with Japan," the 28-year-old pointed out.
Several other footballers including Zinedine Zidane, Alessandro Del Piero, Lionel Messi, Andres Iniesta and Alexis Sanchez have also admitted to have grown up watching Captain Tsubasa and inspired by the show.
Meanwhile, Torres insists that the Club World Cup is not a holiday for Chelsea. There has been speculation that this competition does not rank high on the Blues list of priorities. However, the Spanish hitman has dismissed these rumours and stressed his club is keen on leaving Japan with the world title.
"How many people don't take this tournament seriously, or don't think it is like the real World Cup? It is for the clubs. You ask the South American people. David Luiz showed me a video of Corinthians fans at the airport, it was full of fans cheering the team and travelling to Japan to support, so it is important, the club Web site quoted the striker.
"In Europe maybe we don't give it as much attention, and to some people it might not mean much, but to me it does. This is not a holiday or a break. This is a World Cup. It's nice to be involved, and maybe to be able to say you are a world champion. The European Super Cup was just as important to us and we lost, so we don't want that disappointment," Torres added.
Chelsea will enter the competition at the semi-final stage in midweek against Mexican side Monterrey.