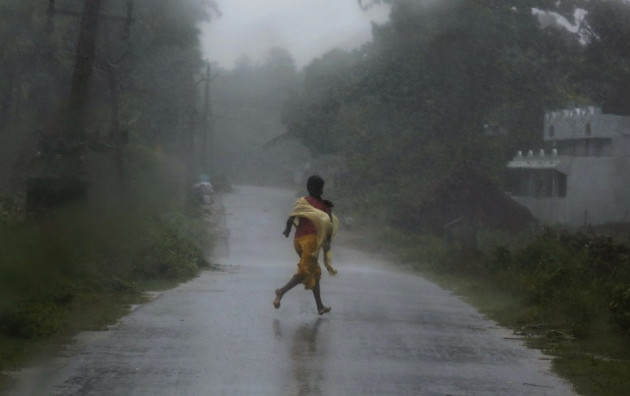 Five people have been killed as one of the strongest cyclones in India's recent history struck the coast of the country, forcing up to 500,000 people to flee their homes.
Cyclone Phailin blasted areas of Odisha and Andhra Pradesh on the Bay of Benghal at about 7pm local time, with winds of up 200 kmph bending trees and submerging coastal communities under giant waves.
In the town of Gopalpur, Odisha, wind speeds reached 160mph (260 kph).
Four people in Odisha were killed by falling trees, and one person died when the walls of her mud hut collapsed on her, Reuters reports.
Local media report that all flights in the Bhubaneswar and Vishakhapatnam areas have been cancelled. Power supplies have been cut along those parts of the coast that are in the cyclone's path.
Army units and aircraft are on standby across the area to help those affected.
A 3-4 metre surge in sea levels is expected along the coastal area affected, with the storm expected to last six hours.
Earlier, thousands had taken escaped the cyclone's path in the country's biggest evacuation operation for 23 years.
India's weather department warned of the damage to homes and flooding the storm would bring.
"In a storm of this magnitude there is the potential for widespread damage to crops and livestock in the low-lying coastal areas and houses completely wiped away," said Kunal Shah, the head of the aid group World Vision's emergency response team in India.
Around 10 million people live in the areas that lie in the path of the cyclone, which has been classified as a category five storm, the highest rating.
A cyclone that struck the area in 1999 killed 10,000 people, with many afterwards claiming the deaths could have been avoided through better government preparation.
Many of those evacuated from affected areas are subsistence farmers who live in mud or brick huts and are taking refuge in government shelters, schools or temples.
"A lot has been learnt since 1999 and my guess is that while there could be extensive damage to property and crops, the death toll will be much less," said G Padmanabhan, emergency analyst at the UN Development Programme.