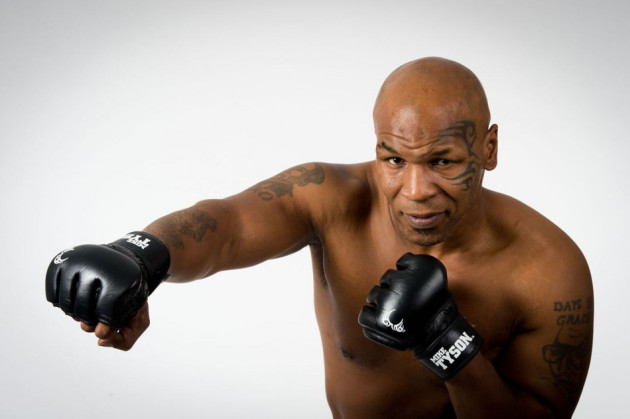 Mike Tyson believes that it is possible for David Haye to return to the very pinnacle of boxing by once again becoming the world heavyweight champion.
Speaking on a rare visit to London, Tyson's hulking presence, surrounded by even larger security guards, is in deep contrast to his softly spoken manner. He speaks candidly about a range of topics and is both eloquent and engaging. He has witnessed just about everything in boxing and now offers wise counsel to the heavyweights looking to become greats.
One such fighter looking to reclaim his mantle is Haye. Having returned from a self-imposed retirement, the Londoner is still regarded as one of the few fighters that can challenge the dominance of the Klitsckos. Tyson agrees.
"I know David Haye. He is a very good fighter, he impressed me with the Klitschko fight as I thought Wladimir would beat him easier than that," states Tyson, himself a former undisputed heavyweight champion. "I've learned to have a great deal of respect for Haye the more he has fought. I think if he keeps fighting and getting more experience then he can become a champion."
Tyson appears humbled by the experiences that have led him to earn, and lose, fortunes both inside and out the ring. His British counterpart, Haye, has often courted criticism for his outspoken nature, but the youngest heavyweight champion of all time believes it is a well-rehearsed act.
"David Haye does have humility he just doesn't have the humility we think he should have at this moment. He does have humility when he's alone," Tyson said.
"He knows what he's doing. This isn't an actor, this is a real act what he's doing. It's funny cause it's not him but it is him, this is what he has to do to accomplish the goals that he needs to achieve. We are in the hurt business."
Tyson, 46, was involved in an era of heavyweight boxing that produced some truly world class fighters. He fought hall of fame members Michael Spinks and Lennox Lewis, while his epic battles with Evander Holyfield will never be forgotten.
Many have questioned the current state of the heavyweight division, yet Tyson speaks in glowing terms about the two brothers who have overcome every challenge put in front of them.
"The Klitschkos are great fighters; you can't take that away from them. They beat everyone that's in the division," explains Tyson. "We're just used to rambunctious fighters and people like action packed fighters. Now they are very sophisticated stand-up boxers it's just what people get used to. Now it's very calm and serene because of the current champions."
The Kitschkos have often been criticised for their robotic displays as they prefer to gradually grind down their opponents, but Tyson believes that they would have proved a difficult challenge even for someone with his undoubted talent and raw power.
"They would be tough for anybody to fight. We don't want to believe it because sometimes we get stuck on apple pie in our era. We like Chuck Berry; we like Elvis Presley. People get better as men from the cavemen to now," admits Tyson.
"We are supposed to get better. From the 80s to now we've got better. We've got more technology, more people are made, we get more money, the world is bigger, and we become better. So these guys would be difficult to beat for anybody who came before them."
Unfortunately for the American public their fighters do not appear to have evolved and improved with time. Shannon Briggs is the last American to hold a heavyweight belt, but it is more than a decade since the last truly great champion, Holyfield, reigned supreme.
Two of the main hopes in the States are Deontay Wilder and Seth Mitchell, However, Tyson quickly dismissed their chances of being crowned a heavyweight champion.
"They can't beat the Klitchkos," is the matter of fact response from Tyson. "That's all what you want to know. Can they beat the champion right now? That's all that matters. If anybody else wants to matter they've got to beat the Klitchkos."
Taking Tyson's attention away from the land of giants, the subject is a familiar one. Returning to the ring. Britain's own Ricky Hatton returns after a three year absence and there were words of encouragement, and caution, from Tyson.
"If he's excited about it then it excites me. If he has the same vigour and hunger, that excites me. Ricky was pretty active and he was in a lot of tough fights, some people need time off to regenerate their batteries and we've seen people do that and come back and be successful," said Tyson.
"My main advice for Ricky would be to take it very easy, you don't go in over your head to prove you're tough. Take comfortable fights and build your confidence back up be comfortable about being back in the ring. It's about having your pride and your ego in check. These are the proper procedures to go through to reach the destination that we claim to want.
"That's basically what it is; he has to take small steps. Whatever it is he's seeking let's hope it's not something really bad. In my situation I might go to drugs because this is a hard high to get, it's hard to replace that stuff drugs is not going to do it.
"This high, this adrenaline you get from big fights you find hard to replace. If you're on the losing end you can't replace this stuff. It's then that you have to come to grips with it and be truthful to yourself."
These are sound words of advice from a boxer who once had it all. He reflects on his career with the knowledge that he has become a better man.
"What I know now is that if you're not humble in this world then this world will thrust humbleness upon you," declares Tyson, before revealing he has no regrets about anything that has come before.
"If I had any regrets then I wouldn't have the purity of the happiness I have now. Anything that I'd have done, from being in prison, fighting Holyfield, the lack of any of that in my life would have made it miserable now."
Mike Tyson launched his new Mike Tyson Collection which will be exclusively available at the London Fight Zone in Lillywhites and sportsdirect.com