Former world heavyweight champion David Haye has tipped David Price to win the war of the giants if the Liverpudlian ever steps in the ring with his bitter rival Tyson Fury
Price is currently the British heavyweight champion but will be looking to secure a shot at a world title before too long as he continues to secure impressive knockout victories.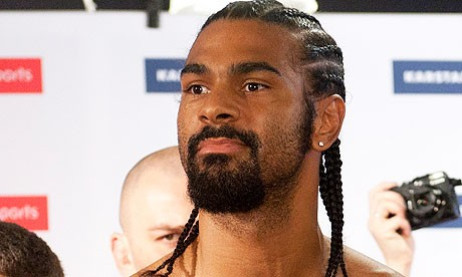 Fury vacated the British title and was accused of avoiding Price but it seems almost inevitable that the two unbeaten heavyweights will at some stage settle their differences in the ring.
Price looks to pick up his most impressive win when he takes on former world title challenger Tony Thompson in February, while Fury looks to secure a bout with current WBC champion Vitali Klitschko.
However, Haye feels that there will only be one winner if the two British fighters meet and that is Price.
"I think David Price is the No 1, ahead of Tyson Fury," Haye told the Manchester Evening News."The way he handled him comfortably in the amateurs makes me think that and the way Price is dispatching opponents and not getting involved in sloppy 12 rounders.
"He's getting rid of, albeit modest, opposition in good fashion. He's knocking them out. He doesn't fiddle around - he does the job like a good heavyweight prospect should.
"Price is head and shoulders above a lot of the other guys. But only time will tell if he realises that potential and becomes world class."
Haye has previously sparred with the 29-year-old and he is confident that Price would even be able to secure a stoppage against Fury.
"The fact that Fury relinquished his titles rather than fight Price shows what the pecking order is," added Haye. "If Price and Fury fought each other you would find out how good they are. I think Price stops him. That's my opinion.
"I've spent more time with Price, sparred him and seen him improve. I don't know too much about Tyson.
"I've only seen him fight live once, against John McDermott, and I thought he lost that fight. I can only go by what I've seen.
"We saw how Price dispatched McDermott. Maybe that's not the best way to judge them and maybe Fury has improved a lot."
The former unified cruiserweight champion also made it clear that he hopes to secure his own shot at Vitali, though he is concerned that the Ukrainian will walk away from the sport to pursue his career in politics.
"If I don't fight Vitali Klitschko that will be it. There is no other motivation. Even if he relinquishes his titles, it's who you beat to get them," added the former WBA heavyweight champion.
"I'm never going to box for a vacant title. It's about beating the champion. In years to come people would look back and say it meant nothing.
"My love for boxing has always been a desire to prove people wrong and that I am as good as I say I am. I can only prove that against Vitali Klitschko."