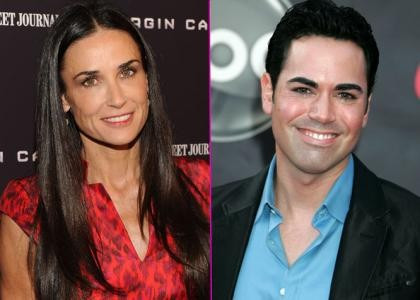 Demi Moore may well have found love again after filing for divorce from cheating husband Ashton Kutcher last month.
RadarOnline.com has reported that the actress has been dating celebrity beauty guru Scott-Vincent Borba.
The actress has had a reputation for courting younger men. Borba is in his mid 30's, yet very successful, being the founder and CEO of Borba skin products.
"Demi and Scott-Vincent started dating last week," a source told RadarOnline.
"They have known each other a long time and he's really been there for her by her side through the whole Ashton thing."
Even before her divorce from younger husband and new "Two and a Half Men" star Kutcher is official, it would seem that Demi has moved on already.
"It's easy for Scott-Vincent to keep his relationships a secret because he's so often photographed hanging out with celebrity clientele," the source said.
"But he's head over heels for Demi and there's definitely potential for a lasting relationship between them."
When asked if it was true, Scott-Vincent said: "I do not comment on my personal life."
It has also been widely reported that Kutcher is wasting no time finding love again after reportedly spending Thanksgiving surrounded by beauties on a yacht last week.