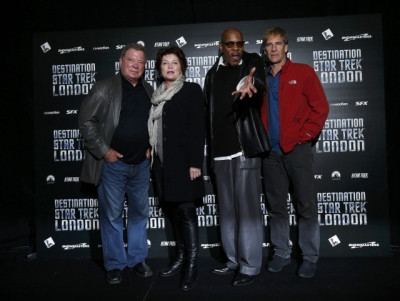 Celebrities from American sci-fi television and film franchises Star Trek and thousands of Star Trek fans descended on London over the weekend to attend the first Star Trek convention in the UK in 10 years.
The event - Destination Star Trek London - was held at the Excel Exhibition Centre and featured a number of activities for the fans and attendees, including themed parties, interactive sessions with fans, professional photo shoots, autograph sessions, displays of original sets (including the famous bridge of the USS Enterprise), props and memorabilia as well as stunt displays.
Star Trek is one of the world's best-loved television and film franchises. It began in 1966 with the television series Star Trek that was later referred to as Star Trek: The Original Series. As many as eleven Star Trek films have been made so far with the latest being released in 2009.
To celebrate the franchise's huge success and popularity, the Star Trek convention in London had all five starship captains in attendance - William Shatner (Captain Kirk), Sir Patrick Stewart (Captain Picard), Avery Brooks (Commander Sisko), Kate Mulgrew (Captain Janeway) and Scott Bakula (Captain Archer).
During an interactive session with the fans, Bakula spoke about his first day on the sets of Star Trek, saying that he "spent trying to figure out where Porthos was going to pee and poop for eight years," the Web site Startrek.com reported.
"Everything about playing the first and only female captain was best," Mulgrew said about her best and worst experiences. To this, Bakula humorously added: "The worst was having to follow these other captains. The best was brainwashing myself that I was the FIRST captain."
The other leading stars in attendance were Emily Brown, Becky Cheeseman of Worthing, Mirinda Archer of Manchester, Shatner - who played Captain James T Kirk in original version of Star Trek - and Brooks, who played Captain Benjamin Sisko in Deep Space Nine (1993-1999).
According to the organisers, as many as 12, 000 people attended the convention, described as a "pilgrimage" for fans.
Click on Start to view the photographs from Destination Star Trek London.