A German U-boat that – according to maritime folklore – was abandoned after being attacked by a sea monster has been discovered off the coast of Scotland.
The World War I submarine was found by engineers placing subsea cables, submerged off the Galloway Coast.
The vessel is believed to be the UB-85, which according to official records was sunk by HMS Coreopsis in 1918.
However, according to naval folklore the vessel suffered a far stranger fate, with the crew reportedly claiming they abandoned the vessel after it was attacked by a 'sea monster.'
On being rescued by HMS Coreopsis, the vessel's captain, Captain Krech, reportedly described how the vessel was attacked by a beast with "large eyes, set in a horny sort of skull… with teeth that could be seen glistening in the moonlight".
He claimed the vessel was so damaged in its battle with the monster it could no longer submerge. It was found floating on the surface of the sea by HMS Coreopsis.
Dr Innes McCartney, a marine archaeologist who helped identify the largely intact wreckage, told ther BBC that evidence suggested it was "a UBIII-Class submarine, of which we know of two which were lost in the area – the more famous UB-85 and its sister boat UB-82".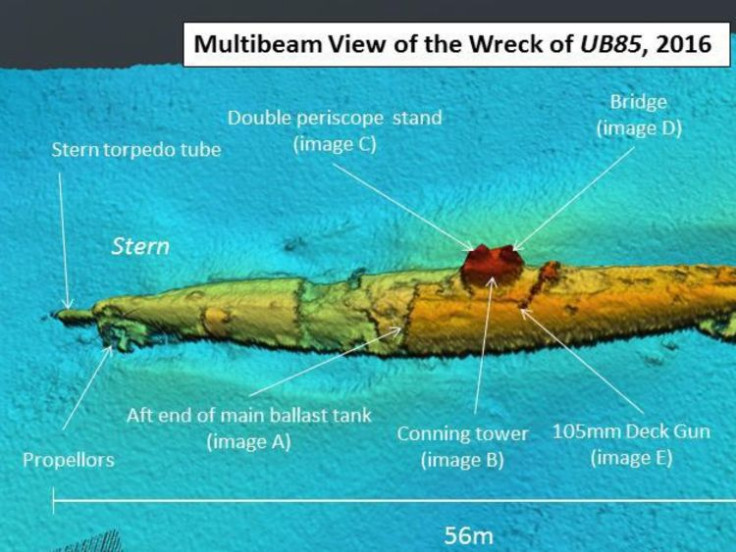 However, Dr McCartney said legends of a sea monster attack arose as a result of secrecy surrounding the first campaign against submarine warfare and of journalists and ex-navy men "talking late at night, after having a nice time".
He added: "I don't think it was a sea monster. I like the idea of Nessie doing her bit for the war effort but in reality the real sea monster was the U-boat."
He told The Guardian: "You've got to remember that after the war the records were sealed, but there were all these people with some connection to British intelligence who yearned to boast of mighty deeds at sea but couldn't tell the true stories. The true sea monsters of the first world war were the submarines themselves."
The discovery was made by engineers involved in the £1bn Western Link project to lay a subsea power line between Ayrshire and the Wirral, which will supply Scottish renewable energy to England and Wales.
The wreckage was found 120m north west of the centre of the planned route for the cables, off the Stranraer coast. It measures about 45 metres.
Germany's U-boat campaign targeted merchant vessels transporting food and other supplies to the British Isles, and are believed to have sunk almost 5,000 ships over the course of the 1914-1918 conflict.