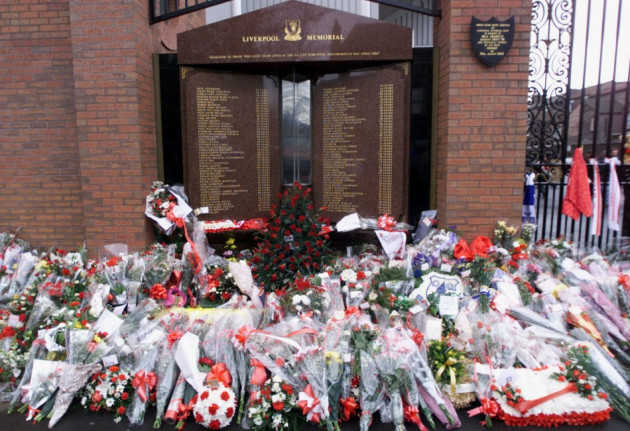 Former Prime Minister Margaret Thatcher had been told a senior Merseyside police officer blamed "drunken Liverpool fans" for the 1989 Hillsborough, the BBC revealed.
The BBC claims it has seen secret leaked briefings regarding Britain's worst sporting tragedy, in which 96 football fans died and 776 were injured after being crushed against overcrowded terraces at an FA Cup Semi Final game at the Hillsborough stadium in April 1989.
The BBC claims the papers it has seen include a letter sent to Thatcher four days after the disaster from an advisor who attended a meeting with the chief constable of Merseyside Police, the late Sir Kenneth Oxford, and some of his senior colleagues.
According to the letter, the Merseyside chief constable said: "A key factor in causing the disaster was the fact that large numbers of Liverpool fans had turned up without tickets.
"This was getting lost sight of in attempts to blame the police, the football authorities, etc.
"One officer, born and bred in Liverpool, said that he was deeply ashamed to say that it was drunken Liverpool fans who had caused this disaster, just as they had caused the deaths at Heysel." [The Heysel stadium disaster occurred on 29 May, 1985 before the start of the European Cup Final between Liverpool and Juventus. A similar crush took place, in which 39 Juventus fans died and 600 were injured.]
The officer was not named in the letter.
The official inquiry said South Yorkshire Police were responsible for the disaster by failing to control the crowd.
Sheila Coleman, from the Hillsborough Justice Campaign, told the BBC: "We are really concerned that the emphasis is totally on Merseyside police here and not on South Yorkshire police, and that makes us very suspicious of how this information was leaked.
"We find it a strange coincidence that this information was leaked only days after we found out the [Hillsborough Independent] panel are not going to report until the autumn."
The news has provoked angry reactions from Liverpool fans, who already put up with The Sun newspaper reporting "The Truth", in which it was claimed that fans picked the pockets of dead bodies and urinated on police officers.
Gareth Roberts, who writes for the website theanfieldwrap, tweeted: "There's no relevance to what Kenneth Oxford 'thought' then or now - his force didn't police Hillsborough."
Liverpool fan "drakerichards" wrote on a forum on the site: "Was Kenneth Oxford at Hillsborough ?? I don't think he was... therefore why is he offering an opinion on what caused the disaster?"
Red Beret, who commented on the story at redwhiteandkop.com, said: "Club-footed senior police officer in telling the government what they wanted to hear shocker."
Joe Anderson, leader of the Labour Party in Liverpool, tweeted: "BBC need to make clear that Liverpool fans have been cleared of smears perpetuated by The Sun, in legal reports and inquiries."