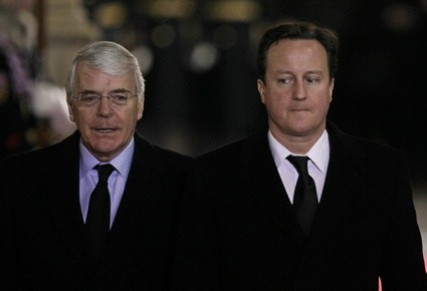 Former Tory prime minister John Major has stepped into the row over energy prices with a warning that many consumers face a cold winter in which they will be forced to choose between eating and heating because of the power companies.
He urged Chancellor George Osborne to slap a one-off excess profits tax on the big six companies which were levying huge, inflation-busting price rises on consumers, in order to fund increased payments for those shivering in their homes.
He rejected Labour's energy freeze policy but said: "Ed Miliband's heart is focused on the right issue."
He added that Sod's Law dictated that Britain was about to suffer a long, cold winter and that it was about time the government stood up for "people not institutions".
And he suggested that, without action, this winter could see the Tory party once again branded the nasty party, without a heart or social conscience.
In remarks that will dismay the government but were immediately welcomed as a vindication by Labour, he told political journalists that the behaviour of the energy companies was unacceptable.
"Many people are going to have to choose between eating and keeping warm this winter," he said.
Miliband had touched on an issue that was very important and the chancellor should respond with a one-off levy, already being dubbed a "snowfall tax", on the big six companies' excess profits.
"The private sector is something the Conservative party supports but when the private sector goes wrong or behaves badly it is entirely right to make changes and put it right.
"I do not see how it can be in any way acceptable that with energy prices rising broadly 4% that the price to the consumer should rise by the 9-10% we are hearing."
He also dismissed the companies' defence that they needed big increases to fund investment and said they could borrow it.
Silent have-nots, dignified poor and an underclass
And in a wider message to the Tories he said: "We should not be afraid to show we have a heart as well as a social conscience."
The former prime minister, who succeeded Margaret Thatcher and went on to win the 1992 general election, painted a picture of a Britain with a group of "silent have-nots, the dignified poor" and an underclass who sometimes "through villainy or despair" tried to cheat the system.
But, he said, the government's welfare reforms led by Iain Duncan Smith ran the danger of appearing not to take them into account while always listening to "cheerleaders" targeting those abusing the system.
The government should be helping people "move on, move up and move out", he said. It was "no good telling people to get on their bike if there is nowhere for them to live," he added.
His remarks were seized on in Westminster to suggest that he was criticising Duncan Smith's welfare reforms and warning the government that it was losing ground to Labour by playing to the notion it always stood up for big business against individuals.