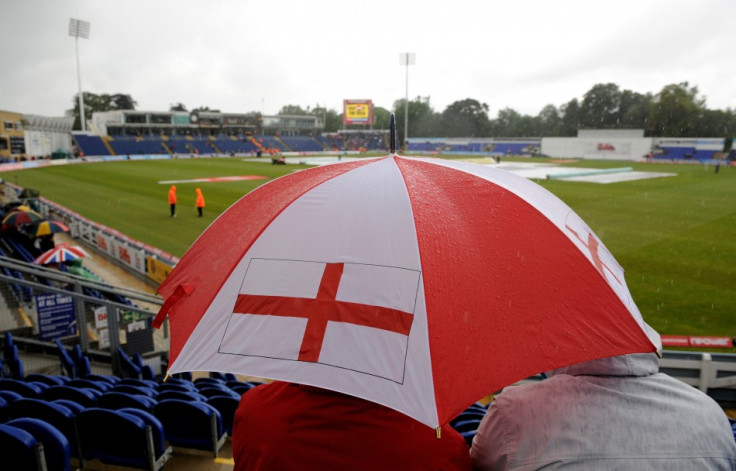 Welcome to the Live score and news coverage of England vs Sri Lanka First Test, day 1 at Cardiff.
This page is updated every over with comments and analysis. Follow the latest score and updates here by bookmarking this page.
For the full scorecard click here.
That brings an end to the first day of the first test between England and Sri Lanka. The day began late thanks to the rain but Sri Lanka dominated early on, but a couple of late wickets from England set the stage for the game to begin in earnest tomorrow.
48th over: Sri Lanka 133-2 (Paranavitana 58, Jayawardene 4) Final over of the day bowled by Tremlett, who gets a maiden before stumps.
47th over: Sri Lanka 133-2 (Paranavitana 58, Jayawardene 4) Broad restricts them a bit more with only a single from each of the batsmen in the penultimate over of the day.
46th over: Sri Lanka 131-2 (Paranavitana 57, Jayawardene 3) The floodlights come on for the last few overs of the day, meanwhile Jayawardene complains to the umpire about something putting him off. Not quite sure what. Both batsmen get a single and Paranavita adds to it by getting his first boundaries for a while with a pair of FOURs, taking him well past his half century.
45th over: Sri Lanka 121-2 (Paranavitana 48, Jayawardene 2) A single to deep midwicket brings Paranavita one run closer to his half century. Broad however makes a big shout for leg before against Jayawardene. Not out says the umpire. No review says Strauss.
44th over: Sri Lanka 120-2 (Paranavitana 47, Jayawardene 2) Jayawardene gets single down leg side off Tremlett, who returns to the bowling attack. Paranavitina also seems to be trying for his half century at a snails pace, getting one more single. Still it's faster than Geoffrey Boycott ever went.
43rd over: Sri Lanka 118-2 (Paranavitana 46, Jayawardene 1) Broad comes back into the attack and yet another single for Paranavitana. Meanwhile Jayawardene finally gets off the mark with a single using a large chunk of inside edge.
42nd over: Sri Lanka 116-2 (Paranavitana 45, Jayawardene 0) Another single knocked through into leg side by Paranavitana, again nothing from Jayawardene. Pretty much a re-run of the previous over, except its Anderson bowling.
41st over: Sri Lanka 115-2 (Paranavitana 44, Jayawardene 0) Yet another single from Paranavita, who is edging closer to his half century, while new batsman Jayawardene defends for most of the over against Swann.
40th over: Sri Lanka 114-2 (Paranavitana 43, Sangakkara 11) Paranavita nicks another single away, while Sangakkara gets into double figures with a FOUR down leg side off Anderson. Anderson redeems himself in the very next ball after claiming and getting the wicket of Sangakkara. It's close and Anderson had to use a review but Sangakkara was given OUT after nicking the ball into the hands of Prior. Sangakkara does not look convinced though. So we still don't quite have a game on our hands yet but we are certainly coming closer to one.
39th over: Sri Lanka 109-1 (Paranavitana 42, Sangakkara 7) Another maiden from Swann, he's doing rather better than Anderson but still its a bit of a lacklustre performance from the bowlers.
38th over: Sri Lanka 109-1 (Paranavitana 42, Sangakkara 7) Sangakkara grabs another three runs with an easy shot off Anderson. Paranavitana does slightly better with an excellent driving FOUR.
37th over: Sri Lanka 102-1 (Paranavitana 38, Sangakkara 4) Swann bowls his first maiden, good but what we really want to see is a wicket.
36th over: Sri Lanka 102-1 (Paranavitana 38, Sangakkara 4) Paranavitana gets the ball down to midwicket, giving him time to claim three runs, soon after Sangakkara gets off the mark by knocking Anderson for FOUR. Incidentally that's 1,000 test runs for Paranavitana. Is that one for each letter in the full names of the Sri Lankan squad? That also takes Sri Lanka past the 100 mark, very good batting here from the visitors.
35th over: Sri Lanka 95-1 (Paranavitana 35, Sangakkara 0) Paranavitana gets another single off Swann with a brief prod to leg.
34th over: Sri Lanka 94-1 (Paranavitana 34, Sangakkara 0) Anderson comes back into the attack and restricts Paranavitana to just one run. England really need to get him out, not only for their sake but for ours, it's one of the harder names to spell.
33rd over: Sri Lanka 93-1 (Paranavitana 33, Dilshan 50) Dilshan begins the over well, reaching his half century with a quick single off Swann, an action replicated in the next ball by Paranvitana. Thankfully for England though Swann decides this has gone on long enough and bowls him clean OUT. With less than an hours play to go today England finally have something to show for this rain spoiled day. Dilshan is replaced by Sangakkara who bolcks Swanns first balls.
32nd over: Sri Lanka 91-0 (Paranavitana 32, Dilshan 49) Dilshan brings a bit of colour hitting a four off the back foot, followed by another single off Tremlett.
31st over: Sri Lanka 86-0 (Paranavitana 32, Dilshan 44) Swann keeps restricting Dilshan, who only gets one run in the over, but still no sign of a wicket for England, it's looking dangerously like a re-run of England's world cup defeat to Sri Lanka, where our bowlers were held at bay for the whole innings by Sri Lanka's openers.
30th over: Sri Lanka 85-0 (Paranavitana 32, Dilshan 43) England getting a bit desperate, Tremlett bowls a maiden and puts in a medium sized appeal for leg before. Umpire says not out, Tremlett looks like he wants a review, but Strauss decides to save it for later.
29th over: Sri Lanka 85-0 (Paranavitana 32, Dilshan 43) Swann gives away a leg bye, while Dilshan gets two runs with a knock to midwicket. Paranavitana grabs a single.
28th over: Sri Lanka 81-0 (Paranavitana 31, Dilshan 41) England are in need of something special here.
27th over: Sri Lanka 80-0 (Paranavitana 31, Dilshan 40) Swann's on and there's an immediate change in the atmosphere around the ground. But it's a gentle opening over from Swann, not much of the zip and vim we're used to from the spinner.
26th over: Sri Lanka 75-0 (Paranavitana 30, Dilshan 37) Looks like we might see Swann in a minute. In the meantime, Tremlett continues. The big man's been quietly impressive today without ever really looking like he's going to take a wicket.
25th over: Sri Lanka 75-0 (Paranavitana 29, Dilshan 37) Broad continues to Paranavitana, he pings one in short and it leaves the left-hander, flying in the air but fallign just short of Pietersen at backward point. This is ragged from England and from Stuart Broad. Sri Lanka move on to 75 without loss.
24th over: Sri Lanka 64-0 (Paranavitana 22, Dilshan 37) First change of the evening, Chris Tremlett's on. Two slips, two gullys in place for him. Still no sign of Swann. You'd think, given his phenomenal record against left-handers, Strauss would be keen to get him on sooner rather than later. Tremlett gets one to spit up, he tries to remove the bottom hand again but it's struck him, and he takes the glove off immediately. He looks in some pain. The physio trots out to have a look. We're back under way and it's a maiden from Tremlett.
23rd over: Sri Lanka 64-0 (Paranavitana 22, Dilshan 37) This is now the highest opening stand by a Sri Lankan pair in Tests in the U.K., apparently. Which says a lot for previous Sri Lanka teams. Much better over from Broad, still nothing to show for it though.
22nd over: Sri Lanka 64-0 (Paranavitana 22, Dilshan 37) A frustrating over for Anderson as the first two deliveries go for four. A decent finish to the over but England are in need of something special to break this partnership.
21st over: Sri Lanka 56-0 (Paranavitana 22, Dilshan 33) Frustration for Broad as he gets his length right for the first time and Paranavitana squirts one in the air through the slips for four. This is the best over Broad's bowled all day. He beats Paranavitana's edge twice more in the over. It looks like England have cottoned on to Paranavitana's weakness to the short ball.
20th over: Sri Lanka 52-0 (Paranavitana 18, Dilshan 33) Anderson throws down five harmless looking balls and then he's mere inches away from getting a breakthrough. He pins Paranavitana on the crease, the ball looping up and falling just short of Eoin Morgan.
19th over: Sri Lanka 50-0 (Paranavitana 17, Dilshan 32) Broad's still struggling to get the basics right. He's wayward throughout the over as Sri Lanka notch up 2 to reach a relatively untroubled 50 partnership. No sign of Swann just yet.
18th over: Sri Lanka 48-0 (Paranavitana 16, Dilshan 31) Dilshan isn't sticking around. He gets one to hold in the air for four and then flashes Anderson through gully for another.
17th over: Sri Lanka 40-0 (Paranavitana 16, Dilshan 23) A stonking shot from Dilshan. Not a bad ball from Broad but Dilshan just leant into that and punched it through the off side for four. Dilshan looking to get on top of England early on. There's a sense that Broad is trying a little too hard here. His line and length is all over the place. He just doesn't seem to be in control of the ball at the moment and this is too easy for Sri Lanka.
TEA
16th over: Sri Lanka 35-0 (Paranavitana 16, Dilshan 18) The best part of this session has been the revelation that Bumble's a fan of The Zombies. Tremlett continues, nothing spectacular though and this session has been a bit limp. There's been no snarl from the much-vaunted England pace attack. Sri Lanka have done well though and they're in a good position going into the evening session.
15th over: Sri Lanka 35-0 (Paranavitana 16, Dilshan 18) Jimmy Anderson (7-2-7-0) is replaced by Stuart Broad. He still looks a little short of full pace, he's still bowling in the low 80's. There's not much of an atmosphere in Cardiff and that will suit the Sri Lankan's more than England. And that's four! Dilshan goes high and flashes a dreadful ball from Broad up and over for four. Cracking shot. There's a big LBW shout at the end of the over but that was drifting down the legside. Looks like we'll get one more over before tea.
14th over: Sri Lanka 31-0 (Paranavitana 16, Dilshan 14) England are not really going anywhere at the moment. I wonder if we'll get a couple of overs from Swann before tea. Tremlett continues, pounding the wicket into submission but there's nothing cooking. Paranavitana looking very comfortable at present. I hadn't seen him play before today but he's been impressive. Stuart Broad is back into the attack.
13th over: Sri Lanka 30-0 (Paranavitana 16, Dilshan 13) Anderson continues for a seventh over and why not? He's been the pick of the bowlers this afternoon. Just two slips and four fielders on the leg-side to the left-hander, Anderson looking to bowl straight and get the batsman playing. He doesn't really do either, drifting fown the off-side and Paranavitana will leave those all day long. England think they've got him from the last ball of the over but Bill Doctrove is having none of it. The ball missed the bat, clipped the top of the pad and carried through to second slip. Not out.
12th over: Sri Lanka 29-0 (Paranavitana 16, Dilshan 12) Tremlett pounds in and strains to get something out of thie pitch. It really does look quite flat. There's nothing there for the big man. Bumble reminds us that the DRS review system is available for this series. There's a strangled from Tremlett's fourth ball but England decide against the review. The ball jagged down the legside and did it clip Paranavitana's gloves on the way through? Nope, he was nowhere near that.
11th over: Sri Lanka 25-0 (Paranavitana 13, Dilshan 11) Dilshan nurdles a couple through the leg-side to take him past 4,000 Test runs. He follows it up by having a huge flash at a fuller delivery from Anderson that he gets nowhere near. Two from the over. We'll have a short delay while Dilshan receives some treatment, not sure what's happened there.
10th over: Sri Lanka 23-0 (Paranavitana 13, Dilshan 9) Tremlett's on for Broad. Smart move from Strauss, Broad looked short of pace. Tremlett looks in good nick, the big man is already up near the 90mph mark. A maiden to start. The crowd have already cracked out the trumpet. Which should tell you how exciting the match currently is.
9th over: Sri Lanka 22-0 (Paranavitana 13, Dilshan 9) This is a proper Test match with Paranavitana only playing at those that he absolutely has to. Despite the uneven bounce that Broad's been getting the pitch looks a little flat. England's bowlers have got to make the Sri Lankan's play.
8th over: Sri Lanka 20-0 (Paranavitana 11, Dilshan 9) It's still Stuart Broad from the other end. He hasn't been too threatening this afternoon but he usually picks up wickets when he isn't looking dangerous. But this is a much better over. He hit the middle of the deck with almost all of those. He's getting some uneven bounce to boot, which is unusual for Cardiff. Just the one run from the over.
7th over: Sri Lanka 19-0 (Paranavitana 10, Dilshan 9) There are a few anxious glances to the heavens from the fielders. It doesn't look like it's raining yet though. Anderson continues and Dilshan contemptuously leaves his first two deliveries. He looked keen for a nibble at the second one though. This is excellent bowling from Anderson, it looks like England have a plan for Dilshan. Anderson tempts Dilshan with a fuller length outside off and just misses the outside edge. Important maiden from Anderson.
6th over: Sri Lanka 19-0 (Paranavitana 10, Dilshan 9) Broad continues to Paranivitana. And there's some bounce in this pitch after all. Broad getting one to rear up and smack Paranivitana in the chest. The batsman responds with a classy cover drive for four. A real battle this and one that the Sri Lankan is currently winning.
5th over: Sri Lanka 14-0 (Paranavitana 6, Dilshan 8) There's definitely some movement for Anderson now. He turns Dilshan inside out with one that moves away from the right-hander and follows it up with a ball that takes the edge but drops just short of Alistair Cook at third slip. This is great control from Anderson.
4th over Sri Lanka 13-0 (Paranavitana 6, Dilshan 7) Dilshan punches Broad's first ball through square-leg but there's a man there and he only picks up one. There's a touch of movement for Broad but the ball is staying low. He gets one to breeze past the outside edge to finish the over. Better from Broad.
3rd over: Sri Lanka 12-0 (Paranavitana 6, Dilshan 6) There's some movement for Anderson now. He gets one to shape back in to the left hander. It's far too high but it'll give the Sri Lankan's something to think about. A maiden from Anderson.
2nd over: Sri Lanka 12-0 (Paranavitana 6, Dilshan 6) It'll be Stuart Broad to share the new ball with Anderson. And his first over is a real loosener. He gifts Paranavitana a four and then gets one to hold up on the drying pitch that just beats the outside edge. A cracking cover drive from Dilshan gives the Sri Lankan's another boundary. He just needs to be careful he doesn't bowl too straight here or these two will punish him.
1st over: Sri Lanka 1-0 (Paranavitana 1, Dilshan 0) Anderson bounds in with the new ball. Three slips and a short leg for Paranavitana. Five dot-balls and Sri Lanka nick one off the last ball of the over. No swing yet for Anderson, there's quite a stiff breeze sweeping across the wicket which doesn't help. The ground is barely half-full, perhaps not surprisingly given the events today but it's still rather strange for the First Test of the English summer.
1530 Let's forget about the rain, the sun is out and umpires Dar and Doctrove lead the teams out. England, resplendent in white (how long they'll stay so box-fresh remains to be seen) immediately gather into a huddle and it'll be Jimmy Anderson to take the new ball. Paranavitana and Dilshan to face.
1515 The sky has cleared, the ground is filling up and it looks like play will definitely start at 1530.
1500 Bumble channelling some Dr Zeus wisdom in the Sky studio. Not sure what it's in relation to exactly but there you go. And the covers are coming off!
1451 UPDATE: Play will now start, rather optimistically it must be said, at 1530. The game can run until 1900 this evening, or 1930 if there are still any of the 48 overs scheduled for today to be bowled.
1448 Those covers are still on and there's a rather ominous black cloud lurking over the ground.
1439 No news as to whether play will still start at 1445, Sky are still showing highlights from the Adelaide Test. The consensus seems to be that it wasn't a bad toss for Strauss to lose - although with all the mositure in the air and two spinners in the team it's probably no surprise that Dilshan chose to have a bat. It could be a difficult opening half-hour for the Sri Lankans, these are just the sort of conditions Jimmy Anderson thrives in.
1430 It's stopped raining, this is getting ridiculous.
1422 It's raining again.
1421 Confirmation of the two teams:
England: Strauss (c), Cook, Trott, Pietersen, Bell, Morgan, Prior, Broad, Swann, Anderson, Tremlett.
Sri Lanka: Paranavitana, Dilshan (c), Sangakkara, M. Jayawardene, Samaraweera, P. Jayawardene, Maharoof, Perera, Herath, Mendis, Lakmal.
1418 Sri Lanka have won the toss and will bat first. Strauss confirms what we thought before the match and its Tremlett who gets the nod over Steve Finn.
1410 Some good news at last: the toss will take place at 1415, with play starting at 1445.
1406 The covers are off and the two teams are out, furiously stretching in preparation for a start in the next hour.
1343 They're back on again.
1340 Wait a minute, the covers are coming off. And not a moment too soon, in the Sky studio Botham and Gower are engaged in a lengthy discussion about shrinks.
1336 Still no news on when we'll see some cricket this afternoon. Mostly cloudy but with a slice of sun here and there by the looks of things. About as good as you could expect for a late May afternoon in Cardiff.
1312 Spots of rain still swirling round in Cardiff. David Gower reckons the forecast will improve around 1400. We should get some cricket at some point today. There's just no indication as to when that might be.
1250 Any hopes of seeing a toss at 1245 were washed away as the rain swept in again. There will be a pitch inspection at 1300 I'm told.
1205 Lunch is being taken early. In the Sky studio they're battling bravely this extended introduction to the day's play. Thankfully there's enough stock footage of English victories over the Aussies to fill the time. We're currently being treated to the Cardiff '09 test. There's a lovely view of a blue sky visible through the back window of the studio so we should get some play in the next hour.
1131 It has started raining again. It's "lashing it down" according to Ian Ward who has drawn the proverbial short-straw and is out on the pitch, cowering under an umbrella. Wales is drier in May than in any other month, according to the Met Office. Apparently, the players will be taking an 'early lunch' from 12.00pm to 12.40pm and we'll hope to see some action after that. Sky shows us some images of hardy souls in flat-caps tucking into soggy cucumber sandwiches and immediately cuts to highlights of the last Ashes series.
1118 No umbrellas this time as the umpires head out. A typically English scene this, a chink of blue sky peeping through the dense black clouds encircling the ground. You have to question the logic behind holding the opening Test match in Wales. In May.
1055 We're still holding out for that pitch inspection at 11:10am. The boys in the Sky studio fishing for time by discussing Kevin Pietersen's ego. Nick Knight, in a natty red tie, bears a remarkable resemblance to Nick Clegg today.
1038 Hold up, it's stopped raining. The groundstaff are out, furiously brushing water off the covers. We'll have another inspection at around ten past eleven. To fill the time Sky are showing highlights from the Ashes, those images don't get any worse as time goes on.
1030 The covers are still on, the rain is still coming down pretty heavily. Umpires Dar and Doctrove amble out into the middle and have a poke around. Dar looks particularly forlorn, like a child who's been told to go and play outside when he'd rather be playing Brian Lara Cricket. It's still raining and the toss is definitely delayed.
1016 The weather is dark, there's rain in the air and the umpires are out with their light meters in Cardiff - it must be the First Test of the English summer. I'm Gordon Macrae and I'll be taking you through the day's play from the Swalec Stadium in Cardiff. Unfortunately, it doesn't look too promising as there's a smattering of rain skidding across the outfield at the moment. The umpires will inspect the pitch at 1030 so in the meantime why not check out a preview of the upcoming series.
They've got the dream team in the Sky studio this morning: Gower, Lloyd, Botham. Bumble getting into the swing of things early on, referring to the great left handers "Lloyd, Gower etc". Not quite sure about that one.