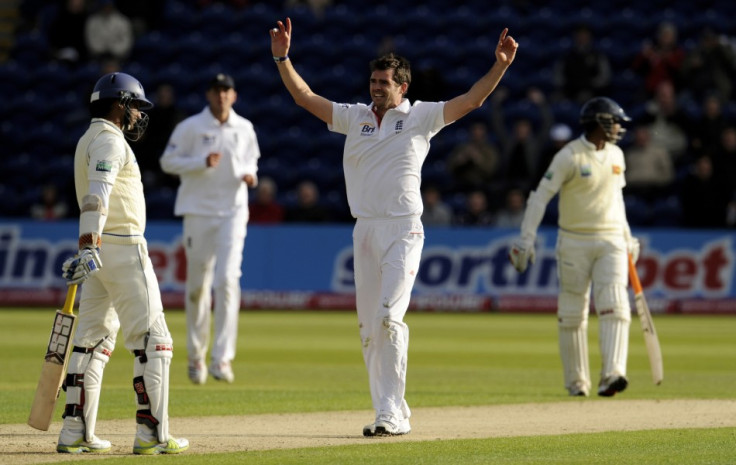 Welcome to the Live score and news coverage of England vs Sri Lanka First Test, day 1 at Cardiff.
This page is updated every over with comments and analysis. Follow the latest score and updates here by bookmarking this page.
For the full scorecard click here.
TEA
99th over: Sri Lanka 316-6 (Jayawardene 69, Perera 19) Perera looks to take Tremlett on, clobbering a four through the off-side.
99th over: Sri Lanka 310-6 (Jayawardene 69, Perera 13) A couple from the over, both teams coasting towards the tea break.
98th over: Sri Lanka 307-6 (Jayawardene 68, Perera 12) An over of chances from Tremlett. First, a missed run out from Pietersen. Hesitation from Jayawardene and Pietersen had two and a half stumps to aim his under-arm flick at but missed by a distance. Later in the over Jayawardene streaks a four in the air through the vacant third slip position.
97th over: Sri Lanka 299-6 (Jayawardene 61, Perera 11) The Trott experiment is over, Swann's back into the attack. Just the one run from the over.
96th over: Sri Lanka 298-6 (Jayawardene 60, Perera 11) A tight over by Tremlett is spoiled when Perera carts him back over his head for four.
95th over: Sri Lanka 292-6 (Jayawardene 60, Perera 6) Trott continues with some more filth. I'm not too sure why Swann isn't on, he hasn't bowled that well today but surely he can't be worse than Trott? No more news on the injury to Anderson. He's got a stiff back, apparently.
94th over: Sri Lanka 286-6 (Jayawardene 55, Perera 5) This is Perera's Test debut and he's not planning on sticking around. He takes a single off his first ball and flays a four through third man later in the over.
WICKET! MF Maharoof run out 16 Well I never, what a ridiculous dismissal. Jayawardene patted a straight drive down the ground, Trott - who's been brought on to replace the injured Anderson - bent over and flicked it with his finger tips and then it ricocheted into the non-striker's stumps. Maharoof was out of his ground, backing up too far down the pitch. Perera is the new man in.
92nd over: Sri Lanka 278-5 (P Jayawardene 52, Maharoof 16) Jayawardene brings up his fifty with a thick edge down to third man. He's played well but Sri Lanka really need him to reach three figures. Too many of their batsmen have got starts without really pushing on today.
91st over: Sri Lanka 275-5 (P Jayawardene 49, Maharoof 16) A maiden from Tremlett. The groundstaff are on now , puttering around those footholes Broad was grumbling about. They've dug a whole and filled it back up again. The camera takes in the image of a guy at the top of a tree overlooking the ground. "Ah, that's Tommy," Bumble says. Which tells its own story really.
90th over: Sri Lanka 271-5 (P Jayawardene 45, Maharoof 16) Broad, chuntering away to himself, is not happy about something. He's gesturing towards the footholes so make of that what you will. England looking a little short of ideas here. Broad finishes his over and flounces back to his fielding position.
89th over: Sri Lanka 269-5 (P Jayawardene 44, Maharoof 15) This is a useful total from Sri Lanka and if they can push on past 300 this afternoon then England might find it tricky when it's their turn to bat.
88th over: Sri Lanka 265-5 (P Jayawardene 42, Maharoof 14) An irate fan shouts "Come on, ref!" as another Broad LBW appeal is turned down by Dar. That one was far too high. Broad has got to be one of the worst appealers in the game. In each of those appeals he has wheeled away in celebration before turning to the umpire.
87th over: Sri Lanka 262-5 (P Jayawardene 41, Maharoof 11) Tremlett comes on for Anderson. On the last ball, an inside edge saves Jayawardene from a certain LBW.
86th over: Sri Lanka 258-5 (P Jayawardene 40, Maharoof 9) Broad has two shouts for LBW turned down in the over and on both occasions Dar turns him down. The second one was going over but the first one looked like a decent shout. England have used up all their reviews though so both batsmen survive.
85th over: Sri Lanka 255-5 (P Jayawardene 38, Maharoof 8) This time Anderson traps Maharoof on the pads. England will review this one as well. It looked a lot closer than the last, as the replays show Maharoof playing down the wrong line and the ball going past the bat into his pad. It has hit him just outside the line of off stump and the evidence isn't conclusive enough to change the on-field decision. The not out decision stands and England have used up all their reviews. The first one was a waste.
84th over: Sri Lanka 249-5 (P Jayawardene 38, Maharoof 2) Broad thinks he's got Maharoof LBW but Aleem Dar isn't having any of it. England go for the review but that looked like it was hitting outside the line. The ball would have hit the wicket, but it was outside the line of off stump when it thumped into Maharoof's pads. So the not out decision stands and Maharoof bats on.
83rd over: Sri Lanka 246-5 (P Jayawardene 37, Maharoof 1) Anderson beats Jayawardene's outside edge with an away-swinger. The pair risk a quick single next ball, Maharoof making his ground moments before Swann's underarm throw hit the stumps .
82nd over: Sri Lanka 242-4 (P Jayawardene 35, F Maharoof 1) Farveez Maharoof is the new batsman in and Broad welcomes him to the crease with a bouncer. Maharoof ducks under it and it floats harmlessly through to Prior. One from the over. A bit of a surprise that Broad's been given the new ball over Tremlett.
WICKET! Samaraweera 58 c Swann b Anderson Anderson strikes immediately with the new ball. It's a cracking delivery, leaving Samaraweera late and taking a thick edge to Swann at second slip. Anderson's been all over Sri Lanka from the start and England are on top now.
80th over: Sri Lanka 242-4 (Samaraweera 58, P Jayawardene 35) There's a very sedate air to proceedings as Trott finishes up his little spell. Sri Lanka have gone at a fair whack after lunch, six overs at over 5 is not ideal from England's point of view. And here comes the new ball,.
79th over: Sri Lanka 230-4 (Samaraweera 52, P Jayawardene 32) Swann continues to wheel away at the other end, not much going for the world's No.1 spinner though. Two from the over.
78th over: Sri Lanka 230-4 (Samaraweera 50, P Jayawardene 32) Samaraweera's played well and he brings up his fifty with a nudged single. These are easy runs for Sri Lanka.
77th over: Sri Lanka 230-4 (Samaraweera 49, P Jayawardene 32) This partnership is really flourishing now. The two batsmen are making the most of every opportunity to dispatch the old ball around the ground. Two 4s off Swann's over.
76th over: Sri Lanka 208-4 (Samaraweera 45, P Jayawardene 27) Trott continues his spell so it looks like England will take the new ball in four overs time. Trott's bowling gives Sunday cricketers a bad name. There's no reason why Broad can't bowl two overs before the new ball is taken.
75th over: Sri Lanka 208-4 (Samaraweera 39, P Jayawardene 21) We're six overs away from the new ball with Sri Lanka holding their own against a spirited England attack. Samaraweera has accumulated in his customary fashion, while Prasanna Jayawardene has shown he's not just a specialist keeper. Still, a lot of work to be done. It'll be Swann to start things off having changed ends.
Promising start for Swann. He throws in a quicker ball at the end that Jayawardene sweeps for three. That brings up the fifty partnership.
74th over: Sri Lanka 207-4 (Samaraweera 38, P Jayawardene 21) Jonathan Trott's on to bowl an over of "dobbers" before lunch. JT can bowl though, he has a First Class best of 7-39, which is quite frankly astonishing. Nothing half has dangerous in this over though. 3 runs from it and that's lunch. England might feel they've edged the session with those two wickets but Sri Lanka will be quite happy with how they've recovered. These two batsmen look quite settled and it's set up quite nicely for the afternoon session. Don't go away. Seriously, please don't.
73rd over: Sri Lanka 204-4 (Samaraweera 35, P Jayawardene 21) Just a single from Anderson's latest over.
72nd over: Sri Lanka 203-4 (Samaraweera 34, P Jayawardene 21) Oh dear, Swann is not happy with that. Pietersen gets down slower than something very slow and mis-fields a rather sedate Jayawardene drive that goes for four. "Love-hate relationship between these two" says Bumble. "There is some love is there?" responds Atherton.
71st over: Sri Lanka 196-4 (Samaraweera 32, P Jayawardene 16) Another maiden for Anderson.
70th over: Sri Lanka 196-4 (Samaraweera 32, P Jayawardene 16) Swann's bowling into the breeze here. He'd probably prefer to be bowling from the other end but Anderson's bowling so well Strauss will be loath to switch it around.
69th over: Sri Lanka 193-4 (Samaraweera 31, P Jayawardene 14) A good spell from Broad, he probably deserved a bit of luck but Anderson replaces him. He continues where he left off this morning, with a maiden.
68th over: Sri Lanka 193-4 (Samaraweera 31, P Jayawardene 14) Swann's on, let's see what he can conjure. He's on the money straight up, there's a little bit of turn here. Samarweera picks up four as Swann drops short.
67th over: Sri Lanka 188-4 (Samaraweera 27, P Jayawardene 14) Broad's got on his 'business' face here, all knitted brow. He's finding some swing here but his bad luck continues as Samaraweera gets a top edge that sails away to the vacant third man position.
66th over :Sri Lanka 178-4 (Samaraweera 23, P Jayawardene 8) Spicy bowling from Tremlett who's prowling around out there like a playground bully who's hungry for sweets. He gets one to nip back that strikes Jayawardene rather painfully on the elbow. And we'll have a short break while the magic spray is brought out. Filthy delivery from Tremlett to end the over that Samaraweera cuts disdainfully to the boundary.
65th over: Sri Lanka 178-4 (Samaraweera 23, P Jayawardene 8) A hint of movement and extra bounce from Broad but he remains wicketless. He sighs and looks to the heavens in frustration.
64th over: Sri Lanka 174-4 (Samaraweera 23, P Jayawardene 4) Oh, that's close. Cook is called into action at third slip for the first time but he couldn't quite reach this with his dive. Top delivery, nipping away and bouncing from a length, Samaraweera's play-with-your-hands defence almost gets him into trouble. Fourth slip/Paul Collingwood would've pouched that. Tremlett gets one a bit wrong next ball and Samaraweera clips him to the legside boundary for four. And then there's another chance, did that carry? This time a toe-ended cut floated towards Morgan at point but just short of him as he dived to his left. Was he walking in?
63rd over: Sri Lanka 164-4 (Samaraweera 13, P Jayawardene 4) That's a great shot to get off the mark from Jayawardene, leaning into an on-drive that whistles effortlessly to the mid-on boundary. He looks like a tidy player, Jayawardene, but England are definitely on top here.
62nd over: Sri Lanka 160-4 (Samaraweera 13, P Jayawardene 0) Prasanna Jayawardene (no relation) the keeper-batsman is the new man, and the soft underbelly of the lower-order is almost in sight. Tremlett pings in five more and finishes with a wicket-maiden. He's bowled superbly this morning and he's got his reward with that wicket.
WICKET! Paranavitana 65 b Tremlett This time he's got him! No need for a review there. Tremlett pitches full and Paranavitana drags a drive onto his off stump. The end a very good innings and on first and second viewing it's difficult to see why he played down the wrong line, the ball didn't move or anything.
61st over: Sri Lanka 159-3 (Paranvitana 66, Samaraweera 13) Broad's replaced Anderson at the other end. His second ball is a little loose and Paranavitana carves him for three runs. He's still struggling to find the right line though. There's a big shout for LBW at the end of the over and that looked mighty close. It looked like it was just drifting down leg and Doctrove doesn't give it. Strauss doesn't want to review it and he doesn't have to either. In the end it was clipping so good choice from Strauss, and Broad's wait for 100 wickets continues.
60th over: Sri Lanka 154-3 (Paranvitana 62, Samaraweera 12) Tremlett's getting some good bounce here and he ruffles Paranavitana with one that jags back and catches the Sri Lankan in a rather delicate area. That's why you wear a box, pal. The physio trots out wtih a towel, not quite sure how useful that is but anyway. After a short break for drinks England think they have Samaraweera caught behind. Prior leaps around like an excited schoolboy but Tremlett's not sure and Strauss isn't keen, not out.
59th over: Sri Lanka 149-3 (Paranvitana 62, Samaraweera 12) The first really poor ball from Anderson gives Samaraweera the chance to go up and over the slip cordon for four. This hasn't been the best over from Anderson and he's lucky to only concede four from it.
58th over: Sri Lanka 149-3 (Paranvitana 62, Samaraweera 8) We're going to have the first change of bowling for the day as Chris Tremlett, the pick of pacemen yesterday, comes into the attack to replace Broad. Samaraweera leaves one that passes just over the stumps, well left or just plain lucky? The batsman's wearing a smile that suggests the latter. That was a very good over from Tremlett, continuing where he left off yesterday.
57th over: Sri Lanka 148-3 (Paranvitana 62, Samaraweera 8) Anderson leaks runs for the first time this morning but he won't mind too much. A fine cover drive by Samaraweera for four but it's always dangerous to drive at Anderson when he's bowling this well. The last ball of the over snicks off Paranvitana's edge but falls well short of Matt Prior.
56th over: Sri Lanka 141-3 (Paranvitana 60, Samaraweera 3) A lot of late swing for Broad this morning. Samaraweera finally gets off the mark, dabbing a wide-ish ball between gully and point. Broad's third ball moves miles after the batsman played inside the line and Prior ended up diving in front of second slip to take it.
55th over: Sri Lanka 137-3 (Paranvitana 60, Samaraweera 0) Samaraweera is having a hard time picking up the movement out there. He's scratching around for his first runs, poking at shots away from his body and making a right mess of it. Looks like Anderson's got his groove back - he's yet to concede a run this morning.
54th over: Sri Lanka 137-3 (Paranvitana 60, Samaraweera 0) It's less blustery out there today and that's undoubtedly made a difference. Broad, in particular, looks like a different bowler.
53rd over: Sri Lanka 135-3 (Paranvitana 60, Samaraweera 0) Great control again as Anderson follows up with another maiden. Just slowly building the pressure, needling away at the new bastman. His figures so far are 2-2-0-1.
52nd over: Sri Lanka 135-3 (Paranvitana 60, Samaraweera 0) A decent if unthreatening over from Broad to follow-up. I'm just looking at the replays of that wicket and it looks like Jayawardene was trying to get his hands out of the way when it took the edge. It's a fine catch from Strauss, away from his body and it's almost past him as he takes it.
WICKET! Jayawardene 4 c Strauss b Anderson Two outswinger's tempt Jayawardene and then Anderson gets one to nip in and Strauss pouches a fine catch away to his right at first slip. That was brilliant bowling from Anderson who set Jayawardene up with his previous two deliveries. That's a big wicket for England. Samaraweera is the new man in, his Test average is a frightening 54 from 63 Tests, but the majority of those runs have been scored in Sri Lanka.
50th over: Sri Lanka 133-2 (Paranavitana 58, M Jayawardene 4) Two slips and a gully for Broad who, somewhat surprisingly, opens from the other end. He looked a little undercooked yesterday but he's been out in the nets this morning so let's see what he's got today. A good over from Broad. Nothing of to concern Paranavitana yet but Broad's length is much fuller than it was yesterday.
49th over: Sri Lanka 133-2 (Paranavitana 58, M Jayawardene 4) Three slips, a gully and a short-leg in for Anderson and there's some movement out there. In the Sky studio Botham's describing the different roles each fielder plays in the shining of the ball and making it sound like a micro-managed organised crime outfit: "There's a shiner, a grubber, a....". Good shape from Anderson, bang in the fabled 'corridor of uncertainty' and moving away from the right-hander. He's just back of a length throughtout but it's a promising maiden to start with.
1100 'Jerusalem' is piping around the ground - is this the unofficial anthem for EVERYTHING these days? Umpires Dar and Doctrove amble out, followed by the England team and two rather well-insulated Sri Lankan batsmen - it looks pretty chilly in Cardiff this morning. The stadium is half-empty again, which is a shame. It'll be Jimmy Anderson to open the bowling. Will we see some swing this morning? We'll soon see.
1045 Yesterday, there was perhaps a feeling that England's quality would be enough to steamroller this Sri Lankan side. But thankfully that hasn't been the case. For a start, there was no quality to England's bowling. A stiff breeze blowing across the wicket undoubtedly didn't help but in the opening session England's pace attack struggled with consistency early on and that relieved some of the pressure for the batting side.
That's not to take anything away from the Sri Lankan openers who looked composed from the start. Tharanga Paranavitana played superbly to end on 58 in his first Test outside the subcontinent. His reserved elegance is well complimented by Dilshan's more attacking tendencies and that looks like a partnership that could trouble England in this series.
1030 So, here we go again. After a truncated first day we should be in for a full program when play gets under way at 1100. Yesterday, Sri Lanka's openers got the better of the English new-ball bowlers before Swann provided the breakthrough. Sangakkara was a key wicket but Paranavitana looks in good nick and Jayawardene's quality is undeniable. I'll be taking you through the day's play fromm 1100.