A Tory Eurosceptic pressure group could be given a substantial boost in Brussels as almost three quarters of Conservative MEPs have shown an interest in joining the organisation, according to one of its founders.
David Campbell Bannerman MEP, co-chair of Conservatives for Britain, spoke to IBTimes UK after the group held its first meeting in Europe on Wednesday (10 June). The Eurosceptic, a former deputy leader of Ukip, revealed that around 12 MEPs had attended the event.
But Bannerman, who stressed that the group is not an "Out" campaign, said that a couple more Tory MEPs are "interested" in the organisation.
On strict estimates, Bannerman said a majority of the Tories' 19-strong delegation in the European Parliament would join his organisation. The East of England representative, when pressed on exact numbers, predicted up to 12 MEPs would sign up.
The co-chair also said that the organisation would support the prime minister in his negotiations with Brussels ahead of a promised referendum on the UK's membership of the EU.
But Bannerman pointed out that Conservatives for Britain would press for "serious, fundamental renegotiation".
Support for Cameron?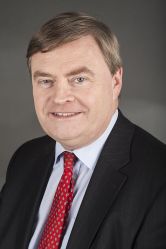 The 55-year-old founded the group alongside backbencher Steve Baker, the Wycombe MP who looks after the Westminster side of the organisation. Baker, who entered Parliament in 2010, has estimated that up to 100 Tory MPs could join the organisation.
The organisation has already landed high-profile backers in the shape of former cabinet ministers Owen Paterson and John Redwood.
Baker told The Telegraph: "We wish Cameron every success but, unless senior EU officials awake to the possibility that one of the EU's largest members is serious about a fundamental change in our relationship, our recommendation to British voters seems likely to be exit."
The prime minister recently found himself in an embarrassing situation over Europe after it appeared that he had climbed down over a "back or sack" ultimatum to his Eurosceptic ministers.
Cameron seemed to originally suggest that Conservative ministers should resign or face the boot if they did campaign to stay in the EU. But Number 10 claimed, just a day later, that the remarks were "over-interpreted".
The prime minister was apparently referring to the need for his minister to maintain collective responsibility while he renegotiates with Brussels.