All the action and reaction from England's match up with France last night, with the Three Lions holding on for a draw after going ahead thanks to a Joleon Lescott header.
Roy Hodgson: "This gives us a good platform. Hopefully we'll get fitter. The more we train and get matches under our belts the fitter we'll become."
Coming into the side with just a month to go before the Euros began, Hodgson has been faced with a great deal of pressure and controversy straight away. With this in mind, a draw against one of the best line-ups in Europe will be somewhat of a relief for the manager, after he put in predominately defensive tactics. A win against Sweden will be a must, and with Wayne Rooney returning for the match up with Ukraine, the Englishman has a lot to smile about today.
Laurent Blanc: "I think we took a while to get in the game and as is often the way we got punished. But that helped us get in the game finally ironically. The fact that it was very hot didn't make it easy for the side that was attacking more and I think France attacked a lot more than England tonight. We could have lost this game had we not reacted, so that's one of the positives. But I think if you look at the game the side that played the most football was France."
France were the more attacking side of the night, and while their passing had far more precision than that of England's, their chances on goal reflected that statement too. 21 shots on goal compared to England's five, with seven on target compared to one, were certainly not reflected in the scoreboard, and with Samir Nasri displaying top form, it would seem two wins are yet to come from Sweden and Ukraine if France play like they did last night.
Patrice Evra: "We are frustrated because I think we played much better. At times it was like there were 15 bodies in front of us. It was really difficult to find space. People laugh but they played the way that Chelsea played against Barcelona. Maybe the fans want England to play more football but if they win the tournament like that, they will be happy."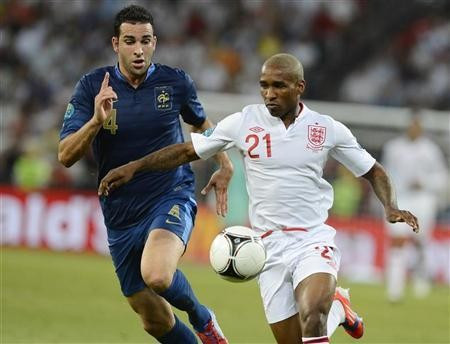 Chelsea used their 'park the bus' technique to take out a Champions League trophy this season, at the expense of a team who arguably were far better behind the ball than the Blues across the pitch. A bit of luck and a strong defensive line-up was all it took to stop Barcelona, and England only having one shot on target last night proved that Hodgson may be taking at least some inspiration from the west London side's efforts.
Joleon Lescott: "Overall it was a good performance and a very accomplished performance as well. Obviously France are unbeaten in a lot of games [21] so we knew it was going to be tough. Before the tournament, France were one of the favourites to win the competition, never mind our group. I think we've got to be positive and take confidence from the result.
"On paper it looks like we've come through the hardest game with a draw. But Sweden won't be easy and Ukraine are the home nation. We've still got two tough games. The key is to keep it in our hands and go into each game with everything to play for."
France's unbeaten record was clearly weighing heavily on the England squad, and with a draw from the match-up, they have a lot to feel confident about going into their final two matches. Sweden are now on the cusp of being knocked out of the tournament, but could come out fighting against the Three Lions, and England don't have the best record against their European counterparts. And as for the Ukraine, a side written off as unable to compete with the likes of England and France, they are now top of the group and if they can hold their nerve, and Andriy Shevchenko can keep his brilliant form, they could well pose a threat as they prepare to take on the two favourites. In England's favour, Wayne Rooney will return for the last game, but neither of these match-ups will be easy and even the side's only goal scorer so far knows it.
Samir Nasri: "When Franck Ribery gave me the ball, the England defence was really low [sitting back]. I decided to take a shot but Joe Hart knows me from Manchester City and knows that in that situation, I normally open my foot. This time I closed it a little bit so I am happy with how it worked out."
Nasri, Hart and Lescott ran the show for England and France last night, showing just how much of a force Manchester City really are. The Citizens may have only won the title within the last five minutes of the season, but their players are showing in this tournament that they're world class for both club and country. And with the side currently developing a massive youth program, all that money may turn out to be very beneficial for England as well.