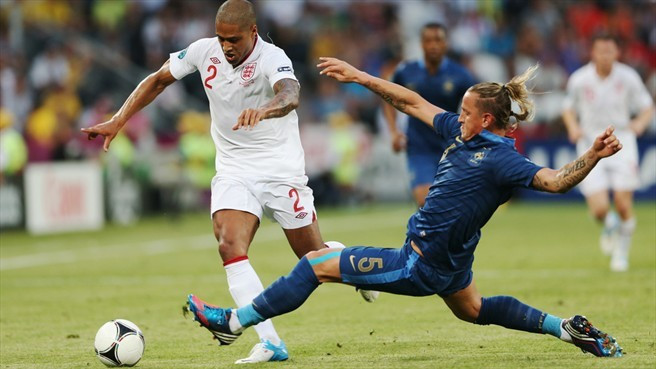 England and Liverpool full-back Glen Johnson is struggling to recover from a toe infection but said he would play through the pain barrier, if necessary, in order to ensure England would be competitive at the summer's 2012 European Championship. The 27 year old was an injury doubt ahead of the Championship.
"For the last four Premier League games I had a toe infection and was playing with three injections just to kill the pain. I've been on anti-biotics for pretty much five weeks now. It's still there (the pain) but it is manageable. I came off them (the anti-biotics) for five days and it got a lot worse so I'm still on them," Sky Sports quoted Johnson as saying.
"I'm training but it is sore after games. They (the anti-biotics) are obviously doing something. It's still there. But we are in the European Championships. I'm not going to let my little toe stop me from playing. We've got two more group games and you want to enjoy your moments and give it your hardest every game," the former Chelsea man added.
Johnson is expected to start in England's next group game - against Sweden - on Friday.
Meanwhile, Johnson's Liverpool team mate and Spanish international goal keeper Pepe Reina claimed the Reds have made a very good appointment in new manager Brendan Rodgers and he was keen to work with the former Swansea City boss.
"I'm looking forward to going back to Liverpool. We are very optimistic about the future. It's a very good appointment and hopefully we can have a better season than last time. I watched Swansea last season and I always like to play like that. It's better for me. I'm only a goalkeeper, but that's my style of football. It will be very nice for Liverpool to play his way," ESPN quoted Reina as saying
"In football, a manager needs to have some time to change things around. He will bring new ideas and we have to very much pay attention to what he wants us to do when we return for pre-season training," the Spaniard added.
Reina is currently at the Euros with defending champions Spain, who take on the Republic of Ireland on Thursday.