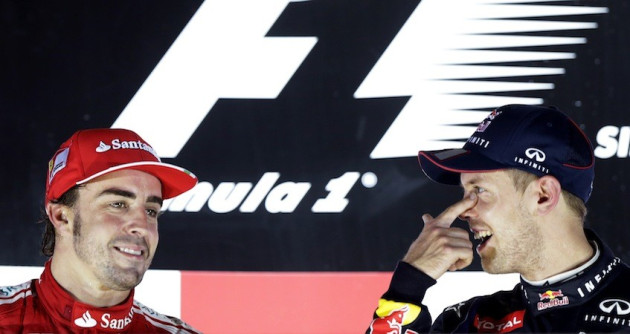 Fernando Alonso has admitted that Ferrari are aware that it's only a matter of time before Sebastian Vettel wins the drivers championship after the German drive moved 90 points ahead with four races to go.
Vettel claimed his fifth consecutive victory out in Japan and now has an almost unassailable lead with only 100 more points up for grabs. He will likely be crowned champion in India and for the first time Alonso has conceded that Red Bull once again have the best driver on their books.
He told BBC Sport: "Even if Vettel doesn't finish all of the races I need to win nearly all, so it's a matter of time [until Vettel is champion].
"We struggle a little bit to do so, so it is matter of time. We continue to try to do out best on Sundays. When it is mathematically settled we [will] congratulate him."
Alonso is insisting on looking at the positives in this year's championship fight in which he overtook Michael Schumacher's points record as he amassed 1571 points after finishing fourth in the Japanese Grand Prix.
Breaking the record became a much more achievable goal after 2010 when the rules were changed to allow for double points and drivers could earn points when they finished up to 10th place.
But Alonso still insists this is still a big achievement, explaining: "We have different goals now and they told me I have the record for the most amount of points in F1 history, so it's a happy day. Leading points scorer in F1 is something great.
"I know the points system changed, but when someone overtakes me in the points no-one will remember the points system changed."