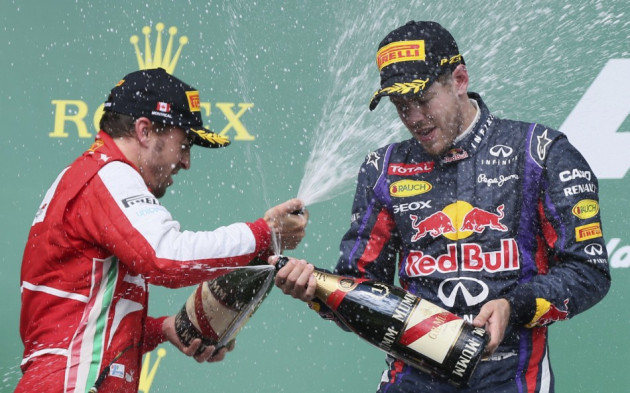 Sebastian Vettel and Fernando Alonso have both insisted that the F1 Grand Prix Championship can still go either way, despite the former currently holding a 36 point lead at the top.
Vettel won the Canadian Grand Prix in convincing fashion, with the only drama coming from Alonso's fight with Lewis Hamilton for second place as the German asserted himself in pole position from the beginning to the end of the race.
It was one of numerous dominant displays by Vettel which could make the title look like a sure thing, as he looks to win the Championship for the third time in a row.
And while Alonso was disappointed that Ferrari didn't put up a bigger fight in Montreal, he wants to improve his qualifying position of sixth and show he can compete with the current champion.
"On Sunday, we normally pick up the pace a little bit about which we are happy because the points are gained on Sunday, but it's true that at some races, if you start too far behind, it's difficult to recover, but we will try to improve next time," Alonso said, according to Sky Sports.
"In the past - I touched on this in Australia or Malaysia - in the last six or eight years, there were people recovering from more than 30 points on the old points, which is three races so it's 75 or 80 points."
Vettel equally insisted that he doesn't believe the Championship has been won yet, saying that Montreal could prove to be a one-off with his dominance over the Ferrari team.
He explained: "As Fernando said, the championship is still long and obviously I was in a different position last year at this time and I was able to catch up quite a lot towards the end. I had very strong races.
"Fernando was a little bit unlucky here and there and we were able to beat him, so we were able to come back but this was ten races from where we are now so I think there are so many things that can happen at that stage of the championship, I'm happy to stand on the grid and focus on the race, trying to win, and the rest we will see later on if we are still in a strong position."