Jenson Button believes that Sebastian Vettel will be the man that suffers after making the rash decision to disobey team orders in order to win the Malaysian Grand Prix.
Vettel was in second place behind team-mate Mark Webber with 10 laps remaining and was told by Red Bull team principal Christian Horner to hold his position as they were concerned about the car's tyres.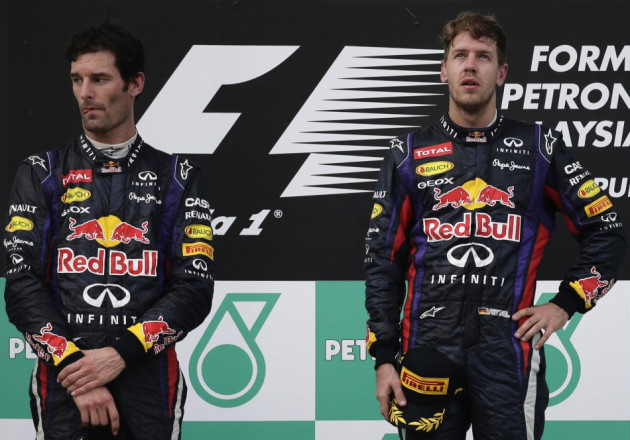 But Vettel decided to ignore the command and overtook an angry Webber who could not hide his feelings after the race.
The two drivers already had a somewhat strained relationship but Button believes that Vettel's behaviour will cause consequences for the German.
"I think that will hurt Sebastian in the long run. I am surprised he did that, but there you go," Button told the Guardian. "We all want to win, but he drives for Red Bull, and they have to call the shots. So many times it has worked in his favour.
"Instead of worrying about all the other guys on the grid, they are worrying about what their team-mate is going to do. If you are told to save tyres and your team-mate is behind you and he overtakes you, you are going to get annoyed.
"It can cause an issue. Even if they sit down and discuss it, it is not going to change the outcome. It is still in their minds what has happened. It does not go away."
While each driver is desperate to gain a victory it remains a team sport and Button made it clear that when receiving instructions, it is in everyone's interest to obey.
"If you are told to do something by the team and you completely ignore what they say, and it costs your team-mate a win - that's big," added the McLaren driver.
"I find team orders difficult anyway but to disregard a team order is something different. I am not a fan of giving a driver preferential treatment, but the issue here is that Vettel did not want team orders."
Button also believes that it will be difficult to repair the damage with Webber who was seething after the Malaysian Grand Prix and made it be known that he felt Vettel had previously received preferential treatment.
"How is he going to give the win back to Mark?" asked Button. "I cannot imagine him leading the race and giving it to Mark and saying 'here you go'. That's very difficult, and I could not do that."