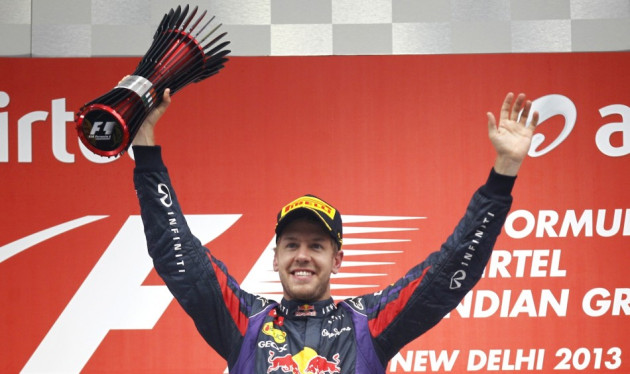 Sebastian Vettel has revealed that he has been hurt by the boos he has received from supporters on several occasions this season when on the podium.
The 26-year-old won his fourth world title on Sunday at the Indian Grand Prix but his dominance has come at a cost with a number of fans booing him at the conclusion of a race.
"It's very difficult for me personally, to receive boos, even though you haven't done anything wrong," Vettel told the BBC.
"At the time it hurts not to get the reception you expect but I think I'm clever enough to understand why they do it. I'm not blaming them."
He then added: "To overcome it, to give the right answer on the track and finally get the acceptance we're all looking for as racing drivers... it make me very proud to join people like (Alain) Prost, (Juan Manuel) Fangio and Michael (Schumacher as a four-time world champion)".
Vettel has won 10 out of 16 races this season and is currently on a run of six consecutive victories as he looks to write his name into the history books.
The Red Bull driver has been the dominating figure in the sport in recent years and he believes the fans are unhappy as they would like to see a more competitive season.
"Maybe if I was a fan of McLaren, Ferrari, whatever, one of the traditional teams, I wouldn't like it if the same kind of guys, same team wins again and again," explained Vettel.
"The most important thing for me is to get the respect from people that I know and people that I race against.
"I feel respected amongst the drivers. Sure you have to fight to get that respect when you come in but I'm not blaming the fans.
"It's very difficult for the fans, to be honest, to understand what's going on behind the scenes because they get a little of an idea of who we are but it's impossible for everyone to introduce yourself and to explain what kind of guy you are."
However, Red Bull chief designer Adrian Newey believes that there are other reasons why supporters might be voicing their discontent, such as Vettel's victory salute and his decision to ignore team orders in Malaysia.
"This booing, you can see how it's happened. First of all, it's that jealousy of success people have," said Newey.
"It's perhaps been wound up a little bit by one or two other drivers, let's say, and yes perhaps annoying habits, gesticulations, and perhaps a little bit of the Malaysia thing."