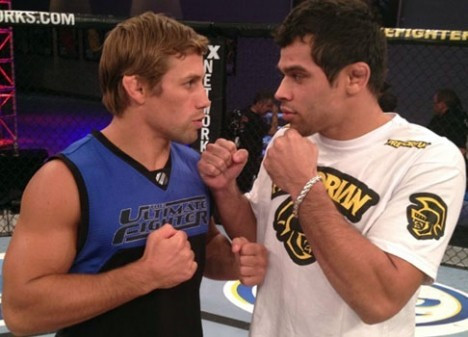 Brazilian UFC star Renan Barao outclassed Californian Urijah Faber to earn the interim bantamweight title in a unanimous decision at Scotiabank Saddledome in Calgary, Alberta, on Saturday night.
Barao, who displayed more quickness and strength than his opponent, won on all three scorecards in the five-round bout: 49-46, 50-45, 49-46.
Faber's takedown attempts were thwarted by Barao, and the winner inflicted damage on Faber with a left-leg kicks. It was a similar strategy that featherweight champion Jose Aldo used on Faber. Barao's mixture of kicks did a solid job of keeping Faber at a distance. The 25-year-old found a way to be both aggressive and defensive.
"I knew Faber was a great athlete and a great fighter, but I prepared myself very well, and that was the result," said Barao, through an interpreter. "My coaches told me to keep [kicking the legs], but it was not only that."
The victory improves Barao's record to 29-1 and one no contest. His next opponent is likely to be Dominick Cruz, a 135-pound champion.
Faber, 33, has now lost two of his last three fights. His respectable record of 26-6 means he will remain an elite name in the division.
UFC 149 marked the first event that the UFC has held in Alberta. According to USA Today, the bout sold out within days and the live gate was a record $4.1 million.