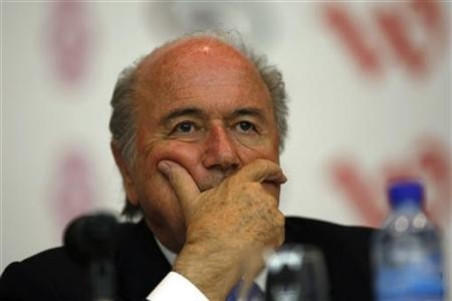 Fifa's ruling board members will meet to appoint a corruption officer to investigate how hosting rights for the 2018 and 2022 World Cups were awarded.
As part of Fifa president Sepp Blatter's anti-corruption reforms, his executive committee in Zurich will choose lawyers to lead independent prosecuting and judging chambers of a revamped ethics court.
Fifa's top anti-corruption adviser, Mark Pieth, told Associated Press the appointments were "absolutely fundamental" to modernise football's scandal-hit governing body.
Pieth said the newly appointed official must have the authority to re-examine old cases, after finding that Fifa "insufficiently investigated" some allegations about World Cup bidding.
Football's governing body has been plagued with claims that some members were bribed or sought favours from World Cup bidders in exchange for votes when deciding who was awarded the 2018 and 2022 tournaments.
There are also claims that several breached bidding rules by joining a pact to back Qatar and the Spain-Portugal bid. Russia won the 2018 rights and Qatar was selected for 2022 ahead of the United States in a final round of voting.
"We will want to meet the people who are going to be elected and make it clear what we expect of them," said Pieth.
"We must help these people to see that they get the right resources."
Pieth's team - known as the Independent Governance Committee - have suggested five names to chair the investigation unit.
"We don't know if they are going to use our list," Pieth said. "I am hopeful that they will have the sense to use the names that meet the requirements."
Payments were legal, says Blatter
Pieth confirmed that there were women on his list - though Fifa reportedly told one panel member that female candidates were "entirely unacceptable".
Blatter recently admitted he was aware of payments made towards some of Fifa's senior officals, but said they were legal at he time.
He said on Fifa's website: "Back then, such payments could even be deducted from tax as a business expense. Today, that would be punishable under law.
"You can't judge the past on the basis of today's standards. I can't have known about an offence that wasn't one."