When Floyd Mayweather turned 36 on Sunday there was plenty to celebrate. Not only had the fighter just agreed a new multi-fight deal with Showtime but he had helped his good friend Ishe Smith realise a dream by winning a first world title.
Mayweather had known Smith since he was a 14-year-old and was prepared to hand him an opportunity when no other promoter would touch him. In all honesty we may have witnessed the future in boxing, one where Mayweather competes with Oscar de la Hoya to put on the biggest shows featuring the best fighters in the world.
But for now we can still enjoy what Floyd does best, and that is boxing. Having signed a six-fight deal we will be seeing plenty more of Mayweather in the next two years and that is reason enough to celebrate.
So in honour of Floyd celebrating his 36<sup>th birthday and signing a new deal we have decided to pick out the defining moments in Mayweather's sensational career.
1996 Atlanta Olympics
Current heavyweight king Wladamir Klitschko may have won gold at this tournament but many will remember it because of a skinny 19-year-old competing in the featherweight division. Mayweather made history when he became the first American in 20 years to defeat a Cuban, Lorenzo Aragon, at the Olympics as he safely made his way through to the semi-finals. He would then suffer a controversial loss at the hands of Bulgarian Serafim Todorov and, despite a protest by the American team, the loss was upheld and a bronze medal was awarded. Having claimed an Olympic medal the stage was now set for Mayweather to turn professional and begin his quest to become one of the greatest fighters of al time.
Professional debut against Roberto Apodaca
There was no glitz and glamour as Mayweather entered the ring in Las Vegas. No colourful shorts, just a simply black robe and black shorts that almost appeared a nod to Mike Tyson. With his dad still in jail it was uncles Roger and Jeff that took over corner duties and witnessed his the making of a star. Roberto Apocada was the Mexican boxer sent out to the slaughter as Floyd demonstrated his lightning reflexes and array of shots. A left hook to the rib cage provided the first knockdown inside two minutes before the contest was all over in the second after another devastating left-hook to the body. The American commentators were excited by the power of the super-featherweight which would be proven as Floyd dispatched 13 of his first 15 opponents inside the distance.
Winning the WBC title against Genaro Hernandez
In his 18<sup>th professional fight it was time for Mayweather to be handed his first world title opportunity against the tough Mexican Genaro Hernandez. In his 37 fights he had only lost to De La Hoya and there was a feeling this would be Floyd's first real test. 'Pretty Boy' was still just 21 but schooled his vastly experienced opponent over eight brutal rounds. Mayweather was aggressive throughout, using his superior movement, hand speed and slick skills to utterly dominate Hernandez. Having pinned him against the ropes and teed off on numerous occasions, the Mexican's corner pulled him out at the end of round 8 and Mayweather shed tears of joy as his family flooded the ring to celebrate.
Knocking down Diego Corrales five times
Diego Corrales was one of the most popular men in boxing and boasted an impressive record of 33-0-0 when he faced Mayweather in January 2001. 'Chico' was in his prime and many pundits believed his come forward style would give Floyd problems. Corrales would attempt to walk Mayweather down but in the early rounds but he simply danced around and countered with vicious straights. Mayweather would pick his moments to attack and then spring in and striker with the speed of a viper. Corrales would visit the canvas four times before once again being floored in the 10<sup>th round, forcing his corner to throw in the towel.
The Destruction of Arturo Gatti
Mayweather was already a two-weight world champion when he got in the ring with the tough and durable Arturo Gatti. 'Thunder' was renowned for his brutal punch power and ability to drag fighters into a war. His brutal trilogy with Micky Ward went into the history books and he claimed he would have too much power for Floyd. With his slick defensive skills, Gatti found it virtually impossible to land a clean shot as proven by the stats in the sixth round. By this time Mayweather had landed more than 80 power punches compared to Gatti's eight. The Italian born fighter found it impossible to get out the way of shots in the sixth as Mayweather really went to work. He hit him at will to both head and body and Gatti was forced to retire on his stool at the end of the sixth with his left eye virtually closed. It was a virtuoso performance that showed Mayweather was a modern day great and earned him a third world title at a third different weight.
Pretty Boy proves too much for the Golden Boy of boxing
Mayweather would step all the way up to middleweight to challenge the legendary figure of Oscar de la Hoya. Over the Cinco de Mayo weekend and with a MGM Grand arena packed with adoring 'Golden Boy' fans this was a career defining fight. Despite this prickly atmosphere for the American he made a grand entrance decked out in Mexican colours and wearing a giant sombrero. Mayweather would win a split decision but that was only part of the story. This was the passing of the torch and one of the toughest fights on Floyd's resume. Oscar was unable to keep the pressure up for the entire 12 rounds and from round 8 onwards it was Mayweather who took control with his brutal accuracy and slick skills.
Another Cinco de Mayo master class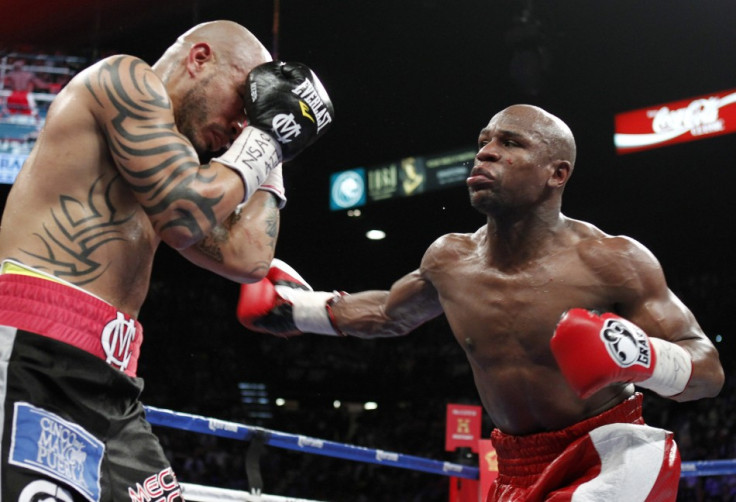 Having completely outclassed Juan Manuel Marquez over 12 rounds and brutally knocked out Victor Ortiz in four, Mayweather would once again enter the MGM Grand on the Cinco de Mayo weekend, this time against a proud and dangerous Puerto Rican in Miguel Cotto. Junito had put his career back on track by defeating Antonio Margarito and was viewed as one of the most dangerous opponents in the division - perhaps behind only Manny Pacquiao. Mayweather was know known as 'Money' and the moniker fit perfectly as he was reported to earn $32million from the purse alone. Cotto would try to pressure Mayweather but he could barely make a dent in his opponents defence and it was a near shutout for Floyd. Again it was a tale of his masterful defence, combined with accurate hooks and impressive counters. Powerful straight rights and left uppercuts made sure it was another win and few could argue against Mayweather being considered the very best in the world.
Follow Adrian Back on Twitter by clicking here