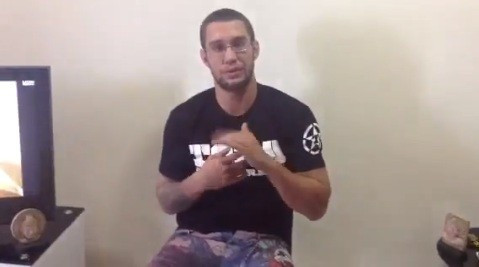 Former Ultimate Fighter contender Ray Elbe has described the fractured penis he sustained earlier this month as the "most unimaginable injury" he has ever received, worse than all the breaks and tears he sustained in the ring.
The athlete has spoken out for the first time since damaging his member while having sex with his girlfriend earlier this month.
"It's actually possible, guys," Elbe says in a five-minute video posted on YouTube.
On 3 December, the MMA fighter was rushed to hospital in Malaysia after his love-making session with his partner took a turn for the worst.
"So...was having intercourse with my girlfriend, came out the top, and as it came down, um, ended up breaking, fracturing my penis bone. It's actually possible guys. Tore the urinary tract, tore some membrane..." he tells the camera.
He goes on to describe the gruesome sequence of events that followed, which include his intense bleeding and losing teeth as a result of blacking out and falling to the floor.
Luckily for him, doctors were able to save his penis after an emergency operation and he is expected to make a full recovery.
Elbe hopes to encourage others who suffer embarrassing injuries to seek help immediately.
"The biggest problem people suffering from this medical emergency encounter is not immediately seeking medical attention, usually due to the same emotions I felt about the accident," he says.
Watch Ray Elbe discuss his injury here.