Lewis Hamilton says Mercedes are under pressure to continue their impressive start to the 2013 season.

Mercedes have enjoyed an impressive start to the year, with Hamilton and teammate Nico Rosberg having earned consecutive pole positions in China and Bahrain while the former is within 27 points of championship leader Sebastian Vettel after four races.
But with rear tyres issues persisting - Rosberg as a result having to making four pit stops in Bahrain - Hamilton says he's hoping that the team can push through their technical problems and close the gap in the race for the world title.
"I feel like we're holding on by the skin of our teeth," he said, according to BBC Sport. "The guys at the factory need to keep pushing because we're not that far off and if we can just make that next step we can close the gap with them."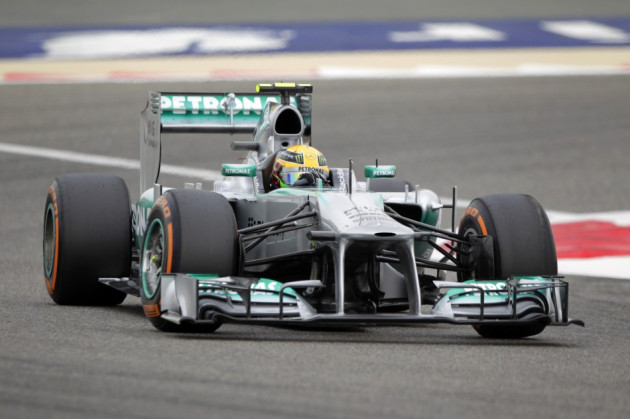 He continued: "I'm very proud of what the team have done getting the car turned around to where we are already.
"I feel very fortunate to be where we are points-wise and finishing-wise but of course we need to keep pushing."
Rosberg also added his own concerns over the tyres, though he insisted the rest of the Mercedes cars are in fine form.
"The great thing is we have a great car," he explained. "We just need to sort out these tyre issues, which is easier said than done.
"It is a massive mission and it is the same for everyone. Some people are doing a better job so we are pushing hard for that."
Hamilton is currently third in the individual title standings, with Lotus's Kimi Raikkonen 10 points ahead in second place and Red Bull's Vettel on 27 points ahead in first.